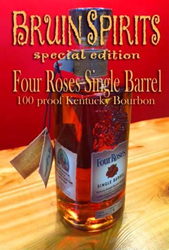 Parker, Colorado (PRWEB) November 16, 2014
Just in time for the holiday season! Four Roses Bourbon and Bruin Spirits, Inc. are please to announce their special release of the private bottling of Four Roses Single Barrel Bourbon's for Bruin Spirits. With 156 bottles available, this great bourbon has hints of vanilla, maple syrup, and honey, making this bourbon a unique gift to give this holiday season.
A little history on Four Roses as described on their website.
In 1884, Paul Jones Jr., moved his thriving business to Louisville, Kentucky, where he opened an office in a section of historic Main Street called, Whiskey Row. Four years later, he trademarked the name Four Roses, claiming production and sales back to the 1860s. In 1922, the Paul Jones Company purchased the Frankfort Distilling Company, one of only six distilleries granted permission to operate through prohibition to produce Bourbon for medicinal purposes. In the years under Pauls direction, sales of the Bourbon flourished and Four Roses grew to be a preeminent brand.
In 1943, Seagram purchased the Frankfort Distilling Co. primarily to acquire the most noted and recognized name in the business at that time Four Roses Kentucky Straight Bourbon. Even though Four Roses was the top selling Bourbon in the U.S. in the 30s, 40s and 50s, Seagram made the decision to discontinue the sale of Kentucky Straight Bourbon here, and Four Roses was moved to the rapidly growing European and Asian markets where it quickly became the top selling Bourbon.
In February 2002, the Kirin Brewery Company, Ltd. purchased the Four Roses brand trademark, and named the new acquisition Four Roses Distillery LLC. By continuing the devotion for product quality with which Paul Jones, Jr. created his original Bourbon, the Distillery has rekindled the popularity of Four Roses in key European and Japanese markets. Now back in the US after a lengthy absence, Four Roses is quickly earning a reputation as one of the finest names in the Bourbon world. The people who work at the Four Roses Distillery in Lawrenceburg, KY and at our warehouse facility in Coxs Creek, KY continue the legacy of Paul Jones, Jr. Their passion for quality and their pride in creating and producing an award winning Bourbon is evident in the smooth, mellow taste that has become the signature of the Four Roses Brand.
Call today to reserve your Four Roses Single Barrel Bourbon limited edition bottle.