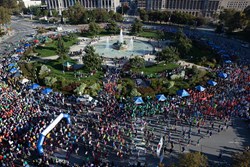 Philadelphia, PA (PRWEB) September 30, 2013
For the first time in its history, the Four Seasons Parkway Run & Walk raised more than $ 1 million to support childhood cancer research and survivorship programs at The Childrens Hospital of Philadelphia. With more than 10,500 in attendance, this was also another record-setting year in participation.
Surpassing the $ 1 million fund raising mark at this years Four Seasons Parkway Run & Walk is a remarkable achievement. said Frank Balis, M.D., interim division chief, the Cancer Center at The Childrens Hospital of Philadelphia. The funds raised at this event are critical to the success of our research and survivorship programs. The extraordinary success of the Parkway Run and Walk is a tribute to the dedication and year round efforts of the Four Seasons Hotel Philadelphia and its employees and to the incredible support from the honorary co-chairs Cliff and Kristen Lee, as well as the generous sponsors, our patients and their families, the hospital staff and the community.
"We are ecstatic to have reached this significant $ 1 million milestone with the Four Seasons Parkway Run & Walk. We set this lofty goal early this year and knew it would be a challenge, but I was confident our team and CHOP were up for it," said Brent Martin, general manager of Four Seasons Hotel Philadelphia. "There is no better partner we could ask for than the world-class Cancer Center at CHOP to execute one of Philadelphia's top fundraising public events."
The Four Seasons Parkway Run & Walk is an opportunity for anyone in the communitywhether theyve been touched by childhood cancer or notto make a difference in the lives of children with cancer, said Cliff and Kristen Lee, honorary co-chairs. We are proud to have partnered with the Cancer Center at The Childrens Hospital of Philadelphia as one of the nations largest and best pediatric cancer programs, knowing that the funds raised will make a tremendous difference for future generations of children diagnosed with cancer.
Dramatic strides have been made in the treatment of childhood cancers as a direct result of laboratory and clinical research, which have led to new treatment approaches, and The Childrens Hospital of Philadelphia has been at the forefront of this progress. However, too many children still succumb to their cancers, and many survivors still face long-term side effects from treatment such as second cancers, infertility, and learning problems, making it vital to continue the search for more effective and less toxic treatments.
The Four Seasons Parkway Run & Walk helps to support new research and treatments so that we can achieve a 100 percent survival rate with the goal of eradicating childhood cancer, and, minimizing the long term side-effect of some treatments, said John Maris, M.D., director of the Center for Childhood Cancer Research at The Childrens Hospital of Philadelphia. Todays challenging economic climate makes philanthropy more important than ever before, ensuring Childrens Hospital can continue to build upon previous successes in turning scientific discovery into medical innovation.
Held annually on the last Sunday of September, the Four Seasons Parkway Run & Walk is the largest annual fundraiser for the Cancer Center at The Childrens Hospital. This hallmark event is a poignant finale as part of the Cancer Centers efforts to raise funds and awareness during Septembers National Childhood Cancer Awareness Month. Although September is over, research to advance treatment for childhood cancer continues. To support, go to http://www.parkwayrun.org or http://www.chop.edu/cancer to learn the many ways to become an advocate.
About the Cancer Center at The Children's Hospital of Philadelphia: The Children's Hospital of Philadelphia has one of the largest pediatric cancer programs in the United States, which is continuously top-ranked by U.S.News & World Report and by Parents Magazine. Its large basic and clinical research programs are particularly strong in pediatric neuro-oncology, neuroblastoma, leukemia and lymphoma, and sarcomas. Of all pediatric institutions, Children's Hospital enrolls the most patients in national clinical trials, working in close collaboration with national organizations such as the Children's Oncology Group. Physicians at Children's Hospital have had pioneering roles in developing international standards for diagnosing and treating neuroblastoma, and in developing programs for survivors of childhood cancer.
###