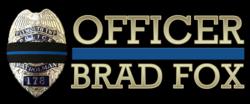 PLYMOUTH TOWNSHIP, PA (PRWEB) October 25, 2012
K-9 Officer Bradley M. Brad Fox, a Plymouth Township, PA police officer of 5 years and 10 year veteran of the Unites States Marine Corps, tragically lost his life in mid-September while serving his community. The Fox family proudly announced they have unveiled a new website, Officer Brad Fox dedicated to the memorial and distinguished memory of their fallen hero. Officer Brad Fox dot com is operated by WebiMax, an online marketing agency based in Mount Laurel, NJ.
We wanted to launch a website to act as an online memorial and resource center dedicated to the memory of our fallen hero, states Brit Mattozzi, sister in law to Brad Fox and Fox family spokesperson. Officer Fox honorably served the local community of Plymouth Township for the last 5 years receiving several citations for Service, Bravery, and Valor.
The website includes multiple resources including a biography of Officer Fox, upcoming events and fundraisers information, a donations portal and a memory submission form.
We encourage family, friends and other individuals to submit their personal memories of Officer Fox, states Mattozzi. One of the most important factors to remember is that Brad touched so many lives as a loving husband, father, friend, dedicated serviceman and contributor to the community and it is important to remember him in this way. Individuals are encouraged to visit the memory submission page on the website.
About Officer Brad Fox.
On the evening of September 13, 2012, K-9 Officer Bradley M. "Brad" Fox made the ultimate sacrifice and tragically lost his life while on duty. It was on the eve of his 35th birthday. The Fox family launched Officer Brad Fox dot com dedicated to the memory of Fox. Site visitors are encouraged to submit a personal memory of Officer Fox by visiting here. Officer Fox is survived by his wife, Lynsay, infant daughter, Kadence and unborn child due March 2013. Please visit http://www.officerbradfox.com/ for more information.