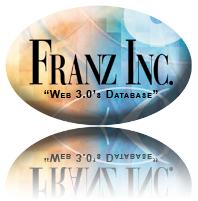 Oakland, California (PRWEB) August 22, 2012
Franz Inc., the leading supplier of Graph Database technology for the Semantic Web, today announced Gruff v4, the industrys leading RDF browser to view graph data, explore connections within data, and visually build queries without writing code. In addition, Gruff allows users to easily visualize the RDFa embedded metadata on websites and combine with open or proprietary data to infer new facts.
The free-form nature of Graph style data offers a lot of flexibility for constructing databases, but that freedom can also make it less obvious how to find arbitrary data for retrieval, error checking, or general browsing. Gruff is a graphical Resource Description Framework (RDF) database browser which makes data retrieval more pleasant and powerful by providing a variety of tools for laying out cyclical graphs, displaying tables of properties, managing queries, and building SPARQL and Prolog queries as visual diagrams.
Gruff allows for easy viewing of graph style data and provides an easy on-ramp for non-technical users to engage the Semantic Web. said Dr. Jans Aasman, CEO of Franz Inc. Users can easily create queries visually without knowing the query language of the Semantic Web SPARQL, which further empowers the business user for this technology.
Key Features in Gruff v4: