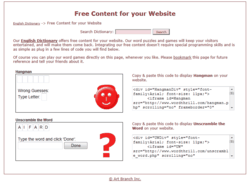 Toronto (PRWEB) September 05, 2012
Art Branch, Inc., the parent company of WordThrill.com announced today the publication of a free games and content section (http://www.wordthrill.com/free_web_content_word_games.php), targeted at webmasters who are interested in free and entertaining content for their websites.
The content section was created by the web development team at Art Branch Inc., and it took about 2 months to design and implement it. The section features educational games as a way of offering informative and fun content. Webmasters can choose from two games Hangman and Unscramble the Word which offer educational value and challenge the mind. These games boost the players cognitive skills and are easy and fun to play. They can be easily integrated into any website, and there is an option to control their visual appearance.
Many webmasters struggle to find quality and engaging content for their visitors, and WordThrill.com offers exactly that for free, said Peter Todorov, President of Art Branch Inc.
Online games help people to develop their creative thinking and problem-solving skills. Games offer valuable learning experience and unique opportunities to master content. They present problems and challenge people to solve them in different ways. Games such as Unscramble the World stimulate the brain and enable gamers to learn as they play. Language learning becomes a more enjoyable experience, helping people to learn new concepts and words. Word games improve long-term retention and concentration and teach people to be creative with words. Thus, games help people to improve their vocabulary and stimulate their creative intelligence. Online games are a valuable addition to any website. To this, the free games and content section helps webmasters to keep their visitors engaged and interacting with their websites. The new section offers fresh content to webmasters, and they can add the WordThrill.com search feature to their websites.
About WordThrill.com: WordThrill.com is an online English dictionary released by Art Branch Inc., with over 200K word definitions and their synonyms.
About Art Branch: Art Branch Inc., located in Toronto, Ontario, is the parent company of WordThrill.com and has produced many consumer oriented websites targeting worldwide audience. The goal of Art Branch is to provide visitors to company sites with free, practical guides, helping consumers to make educated choices.