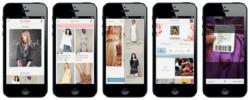 Philadelphia, PA (PRWEB) June 26, 2013
Womens specialty clothing brand, Free People, will launch a dedicated app on June 26, 2013. The multichannel app will allow iPhone users to shop while on the go, browse the brands most recent campaigns, scan hangtags to access online content, and engage with FP Me, Free Peoples Online Style Community. The Free People app was developed in partnership with WebLinc, a leading eCommerce platform and strategic services provider, delivering smart, innovative, brand-building solutions for online retailers.
The fully transactional app is available just four months following the launch of FP Me, which leverages user generated content to increase customer engagement allowing users to upload images, heart products, create collections, and interact with other customers worldwide.
The Free People app delivers a better mobile shopping experience at every level, while giving fans new ways to engage with the brand.


Easily browse and shop your favorite Free People styles, lookbooks, trends, and catalogs.
Universal shopping cart syncs between http://www.FreePeople.com and the App for a seamless shopping experience.
Add a profile pic and start hearting your favorite FP Me style pics, products, and collections.
Shoot and upload FP Me style pics immediately using the built-in camera or directly from your camera roll.
Receive alerts for exclusive sales, items that are back in stock, and exciting app-only surprises.
Quickly find and favorite the closest Free People boutique, displaying directions, hours, and phone numbers.
Instantly check product reviews, customer pics, and detailed product information while shopping in-store using the built-in barcode scanner.
Ship to almost anywhere world-wide (excludes orders to the UK).
Our customers are increasingly mobile-oriented, so we are thrilled to be able to provide them with a great shopping and engagement experience on the go, says Jed Paulson, Director of Marketing and Ecommerce for Free People. Among so many other capabilities that the app has, one thing we are most excited about is the ability for customers to quickly upload and share photos with their friends and the Free People Community.
The new app narrows the divide between online and in-store shopping experiences, making it easier, quicker, and more convenient to shop, share, and connect with the brand, noted Darren Hill, Co-Founder and CEO of WebLinc eCommerce. Were very excited to be on this journey with Free People.
The Free People app will be available on the Apple App Store for no charge. Additional enhancements to the Free People app are already in the works for the coming year. Please visit (http://www.freepeople.com/iphone-app/) for more information on the Free People app, including instructional video, screenshots, badges, and logo.
###
About Free People

Free People is a specialty clothing brand featuring the latest trends and vintage collections for women who live free through fashion, art, music, and travel. The bohemian look consists of quality apparel, shoes, and accessories that invoke attributes of femininity, spirit, and creativity with its design. Free People is distributed globally via direct channels including the Free People Global site and Free People UK site, as well as specialty boutiques, top department stores, and the brands free standing retail locations in the U.S. and Canada.
About WebLinc

WebLinc helps great companies sell more product online and in stores. Our commerce platform helps some of the biggest and fastest growing online retailers outperform their competition. The tested and scalable WebLinc eCommerce platform, combined with an in-depth knowledge of eCommerce strategy, enables WebLinc to create solutions that are unique reflections of their clients brands and brand experience. Learn more: visit http://www.weblinc.com, follow @WebLinc or call 215.925.1800.