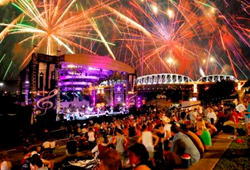 Nashville, TN (PRWEB) June 19, 2014
Tennessee knows how to throw a party. Mix in Independence Day and a wellspring of festivities and freedom celebrations overflow the regions. From some of the nations biggest celebrations to small, community parties, browse the following events for July 4th ideas then fill the calendar for an unforgettable, Tennessee-made Independence Day weekend.
Gatlinburg gears up for the nations first 2014 Independence Day celebration with the 4th of July Midnight Parade leading off midnight July 4 at traffic light No. 1A on East Parkway. The parade, with its illuminated floats, attracts approx. 100,000 spectators and many begin securing their places 7 a.m. July 3. Events continue throughout the day including the noon River Raft Regatta at Christ in the Smokies bridge on River Road. The annual fireworks display sets off at 10 p.m. downtown.
Pigeon Forge shows its patriotic spirit with the 24th annual Patriot Festival. Musical entertainment will begin in the afternoon until 10 p.m. with the Tim Kellar Band, Adkins & Loudermilk, and the Jimmy Buffet tribute band Sons of Sailors with headliner Lonestar. The festival goes out with a bang with the much-anticipated, extravagant fireworks display.
Locals and visitors alike flock to Music City for July 4th during the Let Freedom Sing: July 4 in Music City celebration. Yahoo! Travel named it among their Best Fourth of July Fireworks Shows in 2013 and MSN Living named it one of the best in the nation. This year is sure to impress with musical guests Billy Currington, Ashley Monroe, and Striking Matches among a slew of others. The fireworks display will be accompanied with music by the Grammy Award-winning Nashville Symphony. Attend one of the biggest Nashville parties of the year and, bonus, its all free!
Celebrations across Memphis are happening Independence Day weekend with firework shows at the Bobby K. Flaherty Municipal Center July 3 with live musical entertainment by the community concert band at 6:30 p.m. Plan for a full day of food, rides, games, live music and fireworks at Mud Island during its Independence Day Celebration July 4 and, finally, Germantown will have moon bounces, crafts, games, live music and fireworks beginning 5 p.m. July 4 at the Municipal Park.
Other notable events can be found below. For a full list, visit http://www.tnvacation.com/calendar.
July 3

Hendersonville, Tenn. Freedom Festival Shop and eat while the kids play at the Kidszone beginning at 5 p.m. with local entertainment at 6 p.m. and fireworks at 9 p.m. all happening in downtown Hendersonville.
Chattanooga, Tenn. Pops on the River Enjoy the patriotic concert to celebrate Independence Day with a patriotic fireworks finale over the Tennessee River at Coolidge Park. The event is free and open to the public.
Huntsville, Tenn. Firemans Fourth Attend one of the largest Independence Day festivals in the region with crafts, entertainment by local musicians, food and the 10 p.m. fireworks at sundown at Courthouse Mall.
Allons, Tenn. Rock the Dock Independence Day Celebration A volleyball tournament, Cornhole tournament, bumper boats and splash pad for kids, and contests kick off the fun at 9 a.m. and then end with a fireworks show 9 p.m. at Mitchell Creek Marina.
July 3-5

Jonesborough, Tenn. Jonesborough Days Festival Learn Historic Jonesboroughs story through its patriotic celebration with live music, storytelling, a parade, fireworks and more.
July 3-12

Jonesborough, Tenn. 1940s USO Show Pay tribute to veterans of the Armed Forces with a medley of songs and dances at Jonesborough Repertory Theatre.
July 4

Murfreesboro, Tenn. Celebration Under the Stars The community annual event will include games, music, fireworks and food at McKnight Park. The event is free and open to the public.
Dover, Tenn. Kentucky statesman Henry Clay, played by George McGee, will tell stories of his life. Play old-time games, music and tall tales at the Homeplace at Land Between The Lakes National Recreation Area.
Norris, Tenn. Anvil Shoot Shoot the anvil to acknowledge the nations independence. Patriotic demonstrations and activities like Betsy Ross sewing the flag, the National Bell ringing and more at the Museum of Appalachia.
Clinton, Tenn. A 68-foot obstacle course, three-lane water slide, bungee run and more. Free laser tag, food, antique cars and live music will round out the festivities beginning at 5 p.m. with fireworks at 10 p.m. in downtown Clinton.
Silver Point Campsite Decoration Contest Show off patriotic colors for the 4th of July campsite decoration contest in daylight and dark. Campers must complete decorations by 6 p.m. at the Edgar Evins State Park.
Morristown, Tenn. Party in the Park Celebrate America with a PARMALEE concert beginning at 6 p.m. and fireworks after the concert at Cherokee Park.
Sweetwater, Tenn. Participate in a 5K Road Race 7:30 a.m. then the parade at 3 p.m. with live music, dancing in the streets, a kids zone and more with fireworks after dark in downtown Sweetwater.
Counce, Tenn. Bring a lawn chair and enjoy the booming works fill the night sky along Pickwick Dam at Pickwick Landing State Park.
Johnson City, Tenn. Pepsi Independence Day Celebration Music, vendors and family fun will begin 5 p.m. with the fireworks display at 9:55 p.m. with more music following the show at the Freedom Hall Civic Center.
July 4-5

Rock Island, Tenn. A full weekend of family-friendly activities are on tap with guided hikes, tie dye, games bicycle parades and sand castle contests at Rock Island State Park.
July 5

Tiptonville, Tenn. Browse the flea market while enjoying food and music by Traley Fisher. Watch the fireworks from the water with a pontoon boat cruise along Quake Lake. Call 731-253-9652 for reservations.
July 5-6

Pulaski, Tenn. Red, White & Blue Berry Festival Music, tours, prizes and the first 100 people will receive complimentary shortcake with fresh berries and ice cream 10 a.m. July 5 and noon July 6 at Milky Way Farm.
Explore more at tnvacation.com and join other Tennessee travelers by following TNVacation on Facebook, Twitter, Pinterest, Instagram and YouTube.