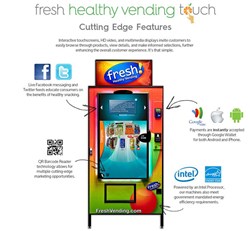 San Diego, CA (PRWEB) October 03, 2013
Fresh Healthy Vending International, Inc. http://www.freshvending.com (OTC Markets: VEND), the nations largest healthy vending machine company, today announced the nationwide launch of the first-ever interactive-digital healthy vending machine, Fresh Healthy Vending Touch (http://thefreshtouch.com). The interactive fully customizable machine boasts a 46-inch 3D touchscreen.
In addition to the features of the original Fresh Healthy Vending machine, (including refrigeration, credit card capability and remote wireless monitoring), the Fresh Healthy Vending Touch features a high-resolution digital camera, social media displays and touch-selection for product categories, 360-degree snack views and nutrition facts; all on its 1080p screen.
Since 2006, weve worked hard and succeeded in leading the healthy vending industry in not only developing and showcasing a healthy snacking machine, but also in spreading a healthy lifestyle across the nation and beyond, said Fresh Healthy Vending International, Inc. Founder and VP of Corporate Operations Nick Yates. Fresh Healthy Vending Touch is Vending 2.0 with modern technology appealing to and engaging with the customer like never before. With a captivating, yet intuitive user experience, customers of any age are making healthy snacking decisions by choice.
While showcasing its line of fresh healthy snack options, all of which are vetted by Fresh Healthy Vending International Inc.s team of product developers, the Fresh Healthy Vending Touch has the customizable capabilities to incorporate targeted advertising, promotional videos, detailed product images and educational tidbits and interactive games and applications tailored exclusively per location or audience.
Each product in the machine has its own packaging design, 3D spin features, buy me animations and a detailed list of ingredients and product availability information. The fully customizable sidebar further breaks down each product into customizable categories, such as: Low Fat, Low Sugar, Low Sodium, Soy Free, Gluten Free, Kosher and Diabetic Friendly.
The state-of-the-art machines also feature anonymous facial recognition which allows the machines to capture sales patterns and trends through an understanding of the customers and purchasing histories. The Fresh Healthy Vending Touch machines accept cash, credit cards or NFC payments made on iPhones and Androids through Google Wallet.
Healthy foods are becoming more prevalent in schools, workplaces and public and private facilities all over the world, noted Yates. This machine also allows us the ability to educate the consumer on the benefits of health and wellness at the point of purchase, something that has never been achieved and something product manufacturers are very excited about.
Fresh Healthy Vending International, Inc. currently has more then 1,800 healthy vending machines across the nation and works to secure high foot-traffic locations for franchisees as part of its extensive Franchisee Program.
For more information on the Fresh Healthy Vending Touch, its technology, industry trends or to get a vending machine for your business, please visit http://thefreshtouch.com. For franchising options or more information on Fresh Healthy Vending International, Inc., visit http://www.freshvending.com.
About Fresh Healthy Vending International, Inc.
Convenience meets health with Fresh Healthy Vending International, Inc. and its pioneered concept of vending machines, stocked with tried-and-tested fresh, healthy snack options. After more than a decade in the industry, the San Diego-based company offers three different types of machines to private and public establishments across the nation. Current products include the Healthy Vending Combo, Healthy Vending Caf