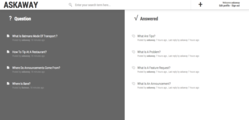 Walnut, CA (PRWEB) March 21, 2013
Today Freshdesk, the fastest growing cloud-based customer support platform, launches FreshThemes, a suite of new customization capabilities that allow companies to tailor their customer support offerings to the preferences of their customers.
WIth FreshThemes, Freshdesk is further bridging the gap between business software and the consumer, with the first ever gallery of ready-to-use support themes. With FreshThemes, Freshdesk hopes to give businesses the flexibility and ease of use that they have so far only enjoyed with consumer focussed tools like WordPress and Tumblr. With FreshThemes, businesses can completely customize the look and feel of their help desk using their own cascading style sheets (CSS), JavaScript and layouting.
Freshdesk is partnering with theme developers around the world to design a library of themes optimized for different customer service use cases. For example, mobile app developers can choose a minimalist helpdesk, just showing customers a curated list of FAQs and tickets, while e-commerce companies can offer a more robust help desk that showcases orders information, contact details and related products to cross-sell.
Companies looking to stylize their helpdesk offerings even further can take advantage of Freshdesks advanced customization capabilities. With this new feature, businesses can bring the kind of specialized effects, interactions and navigations on their website and applications, into their support portal.
With FreshThemes, companies can optimize the entire ticketing process to progress customers through a set of questions based on their previous answers. For the first time, companies using Freshdesk can decide what to show customers, where, and how to stylize every element of their customer support portal.
"Customers today demand a personal experience. When they come knocking at the door with a support issue, they are giving the business another chance to impress them", says Vikram Bhaskaran, Director of Marketing at Freshdesk. "Here, the business can stick to metrics and stop with just satisfying the customer. Or they can go the extra mile to craft a lasting personality, and give customers that support experience that will make them delirious with joy."
In addition to the launch of FreshThemes, Freshdesk is also announcing the launch of its FreshPlugs library. Launched in November of last year, FreshPlugs integrate data from third-party tools, databases, legacy systems or applications to deliver greater context to the customer support experience for both users and agents. With todays launch, companies will be able to browse the FreshPlugs library and integrate into their help desk tools like Google Maps, FedEx and UPS tracking and sentiment analysis.
About Freshdesk:

Freshdesk is a cloud-based help desk software that allows organizations to support their customers through email, phone, website, Facebook and Twitter. With powerful features, an easy to use interface and a freemium pricing model that makes it essentially a free support software for small businesses, Freshdesk is widely used by companies ranging from startups all the way up to enterprises. For more information, please visit http://www.freshdesk.com or find us on Facebook: http://www.facebook.com/freshdesk or Twitter: @freshdesk.