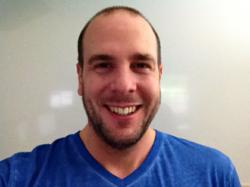 Sydney, Australia (PRWEB) February 05, 2013
After just two days of being launched on iTunes, the pilot episode of ThinkActGet.com, the brand-new podcast site by Sydney-based Internet marketing expert James Schramko and New York City-based ecommerce millionaire Ezra Firestone, reached the number 3 spot on the Apple media site. The podcast resource focuses on all things business and on valuable life improvement subjects that can help business owners everywhere gain an edge in their niche and in their personal environments.
"Think differently, act faster, and get high performance results for your business" this is what ThinkActGet.com is specifically poised to help business owners and marketers achieve. Schramko says that the podcast site motivates business owners to "learn about mindset ideas that can help them grow their business and improve their life." By taking control of the way one's mind works and choosing to focus only on things that can introduce positive changes and impacts on one's own growth and development (and on the business's improved performance as well), highly compelling results can thus be expected.
In the pilot episode, Schramko and Firestone led a discussion on why willpower should become a welcome and permanent part of an individual's life. It also touched on the advantages of personal interactions in business, the organization of local community events, and the rewards of establishing positive routines, among others.
Two new episodes, which are now available on ThinkActGet.com, concentrate on two other topics that are vital and highly applicable to both personal and professional lives: timing and communication.
In the second podcast episode, which discusses timing, Firestone recounts his days as a professional poker player and describes how he would experience back-to-back losses in a particular poker club, no matter how well he believed he played. Only when he scrutinized the situation from a different perspective did he realize the best way to finally succeed in the gameby coming in at a much later time than usual. Because all players were continuously served alcohol, Firestone's opponents would be significantly inebriated by the time he arrived, and he would have the presence of mindand sobrietyto finally earn his winnings. "So that was the right time for me to playwhen I had the competitive advantage," he explains. "It's really important in your business to pay attention to what timeand whereyour messages are especially relevant."
Communication (and the many facets of its delivery, execution, and impact) is the focus of the third Think Act Get episode. Schramko points out that the responsibility for the communication should be with the sender; the way this successful entrepreneur works with his team is to deliver a message and take responsibility for the exchangewhether the team was able to clearly understand the message or not. "If my message doesn't pan out quite the way I'd hoped, I'll say, I probably didn't relay that effectively, let's try this again. I take responsibility for not delivering the message in a way that makes sense to my team, he explains.
This concept illustrates an important aspect of running a successful business, which is managing other people. "You get the team that you deserve," he adds. "Your ability to communicate determines your ability to effectively lead a team."
James Schramko is the CEO of Super Fast Business, a high-powered venture that provides website promotion, website development, traffic generation, reputation management, and SEO services for business owners and marketers across various industries. Ezra Firestone is the founder and creative director of Smart Marketer, an information hub for do-it-yourself entrepreneurs, and head of the non-profit We Are Family Manhattan which redistributes food and other goods to individuals in need. To listen to the informational and highly entertaining discussions between these two entrepreneurial giants, visit the Think Act Get website today.