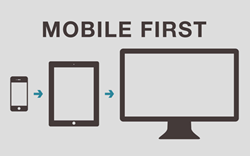 Sacramento, CA (PRWEB) June 30, 2014
In an ongoing effort to improve the website browsing experience, Frog Stone Media is now offering businesses the chance to retrofit their existing web designs into a responsive layout. Businesses with branding strategies and designs already in place will greatly benefit from a retrofit. The existing website design will be adapted and optimized for displaying on phones and tablets.
A responsive design ensures visitors to the website will experience a seamless browsing experience, no matter which device they use. As the website is loaded on different devices, such as cell phones, tablets, laptops, or computer monitors, the website will auto-adjust to reduce the need to pinch, zoom, or scroll around to find content and click or tap on links.
A digital market overview by ComScore in February of 2014 reports 53% of consumers are multiscreening, which means accessing the same website from their PC, tablet, and phone. The report goes on to break down when consumers are more likely to use different devices. Mobile phones are more prominent late at night or early morning. PCs dominate working hours. Tablets are most popular after work until midnight.
As potential or existing customers visit websites throughout the day from their different devices, ensuring the information they seek is easily accessible will encourage repeat business and happy customers.
With a responsive website retrofit, a business's existing website allows customers to be able to effortlessly research, browse, and purchase goods and services through the website without inconvenient scrolling or waiting for large websites to load.
According to a Nielson report commissioned by Google, 59% of users visit a businesss website 6 times on average across multiple devices before making a purchase. 71% of customers look for a businesss location from their mobile device. 83% of customers are ready to purchase within the same day, with 55% of those customers ready to purchase within the hour. 45% of these purchases are done from a tablet.
With a responsive retrofitted website, customers are much less likely to hit the back button to seek out a solution from a competitors website. Customers encounter a pleasant browsing experience from responsive websites which build trust in order to complete a purchase.
Frog Stone Media retrofits websites with a responsive design using the mobile first technique. Websites are first redesigned and optimized for the smallest viewing experience – the phone, with design adjustments working their way up to the tablet, laptop, and finally large monitors. This strategy allows websites to keep their codebase lightweight, simple, and maintainable.
Multiple devices and environments are tested. Websites undergoing a retrofit are put through the paces on iPhones, Android phones, iPads, Android tablets, small screen laptops, and larger monitors.
In addition to design retrofits and tests, Frog Stone Media analyzes and looks into optimization of scripts, web apps, and site speed. Websites utilizing Flash solutions are evaluated and offered a solution which is much more friendly to mobile devices.
Other mobile friendly techniques such as click to call phone numbers, click to navigate addresses, and touch events are recommended and incorporated.
To learn more about Frog Stone Media and a responsive website retrofit, visit http://www.frogstonemedia.com.
About Frog Stone Media: Frog Stone Media excels in developing websites using WordPress and HTML5 responsive websites which follow the latest SEO standards. Member of Google Partners.
ComScore Report
Nielson Report