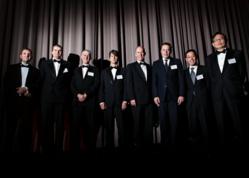 London (PRWEB) November 16, 2012
On November 15th 2012, The Economist gathered an audience of 200 guests, comprising leading figures from business, academia, science, R&D and government for the presentation of the awards at the British Academy of Film and Television Arts Theatre, London.
This years esteemed winners are:

Bioscience: Napoleone Ferrara of Genentech, for his work with cloning therapies leading to new drugs that fight cancer and restore eyesight
Computing and Telecommunications (presented by Huawei): Jack Dangermond of ESRI and John Hanke of Google, for pioneering the use of geospatial data in software applications
Consumer Products: Gary Burrell and Min Kao of Garmin, for developing portable consumer GPS navigation devices
Energy and the Environment: Yet Ming Chiang of MIT, for breakthroughs in battery technology
Process and Service: Marc Benioff of Salesforce.com for pioneering web-hosted business software
Social and Economic: Greg Allgood and Philip Souter of Procter & Gamble, for their development of a simple water-purification process
No Boundaries: Elon Musk of SpaceX, for his pioneering work in private space transportation
Corporate: Google, for its ability to innovate both in its traditional markets, such as search and web advertising, and in new ones, such as self-driving cars and augmented-reality glasses
Tom Standage, Digital Editor at The Economist and Chairman of the panel of 29 judges, said of the award decision: The Economist's Innovation Awards recognise the dreamers and the doers behind the innovations that transform the world we live in. Through their vision and creativity, this years winners have created important products and services. Whether in household names or behind-the-scenes breakthroughs, their innovative contributions have become part of everyday life for millions of people.
Speaking about the importance of innovation, Victor Zhang, Chief Executive Officer, Huawei UK, lead sponsor and computing and telecommunications award category sponsor, said: Congratulations to all winners this year! We are very impressed by the changes that these innovators have brought to our lives. As a global ICT company that has around 65,000 staff dedicated to research and development, Huawei genuinely believes new technology and innovation are key enablers to enrich people's lives, and to boost the progress in different industries.
Ken Jones, President and Chief Executive Officer at Astellas Pharma Europe, award sponsor added: Astellas is delighted to support the Economist Innovation Awards for a second year. Innovation is at the heart of our commitment to improving the lives of patients by providing new treatments of the highest quality. Since our focus is on areas where unmet medical needs still exist, the treatment of cancer is clearly a priority for us. It therefore gives us great satisfaction to recognise Napoleone Ferraras achievement in furthering the cause of oncology through his work with cloning therapies. We congratulate him on winning the Economists 2012 Innovation Award for Bioscience.
The awards ceremony formed the culmination of The Economists year-long programme of engagement around innovation and was streamed live worldwide. For more details or to watch the event on-demand please visit: http://www.economistinnovationlive.com


Notes to Editor
Press enquiries:

For enquiries relating to The Economists Innovation Awards, please contact:
Sarah Caddy, +44 (0)207 467 5820

e-mail: sarah(at)gongcommunications(dot)com
Anna-Louise Maloney, +44 (0)20 7576 8378

e-mail: anna-louisemaloney(at)economist(dot)com
About the winners:
Bioscience: Napoleone Ferrara, Cloning therapies leading to blood vessel formation and new drugs

As a post-doctoral fellow at the University of California, San Francisco in the mid-1980s, Italian-born physician and biologist Napoleone Ferrara was studying the pituitary glands of cows when he discovered a substance in the gland cells that spurred the growth of blood vessel cells. In 1988 he joined the San Francisco Bay Area biotech company Genentech. and in 1989, Ferrara and a team of fellow scientists there identified and cloned a gene for vascular endothelial growth factor (VEGF), a protein that plays a critical role in angiogenesis, the formation of new blood vessels.
This work has led to two breakthrough drugs now marketed by Genentech: Avastin (bevacizumab), an antibody aimed at treating solid tumours by choking off their blood supply, and Lucentis (ranibizumab), which curbs vision loss from three eye conditions, "wet" age-related macular degeneration (AMD), retinal vein occlusion (RVO) and diabetic macular edema (DME). These conditions occur when abnormal blood vessels grow in or underneath the retina.
Computing and Telecommunications: Jack Dangermond and John Hanke, Use of geospatial data

Jack Dangermond and John Hanke pioneered the use of geospatial data in software applications and created new markets for maps and mapping applications.
A geographic information system (GIS) integrates hardware, software, and data for capturing, managing, analysing, and displaying all forms of geographically referenced information. It allows users to view, understand, question, interpret, and visualise data in many ways that reveal relationships, patterns, and trends in the form of maps, globes, reports, and charts.
Consumer Products: Gary Burrell and Min Kao, Portable consumer GPS navigation devices

Gary Burrell and Dr Min Kao co-founded Garmin (merging the first three letters of their first names) in 1989, with the intent of developing navigation devices incorporating global positioning system (GPS) receivers for the consumer market. The company went public in 2000 on the NASDAQ Stock Market (GRMN).
Today the company is the world leader of portable navigation devices designed for applications ranging from automobile navigation to backpacking. Since the inception of its business, Garmin has sold more than 100 million products to motorists, pilots, boaters, runners, cyclists, golfers, hikers, hunters, and geocachers.
Energy and the Environment: Yet Ming Chiang, Breakthroughs in battery technology

Yet-Ming Chiang became the youngest tenured professor in the history of MITs Material Science and Engineering Department in 1990. His research has focused on the design of advanced inorganic materials and related devices.
In the late 1990s Chiang achieved a breakthrough in lithium ion batteries upon discovering nanoscale metal phosphate cathodes. This innovation led to a new generation of lithium ion batteries with unprecedented power, safety, and life, in turn enabling energy applications far beyond the mobile phone and laptops markets served by previous lithium ion batteries.
Process and Service: Marc Benioff, Web-hosted software

Marc Benioff, Chairman and Chief Executive Officer of salesforce.com, says his mission is to destroy the software industry. In the process, however, he has reinvented it and has created a fast-growing company that leverages new technology and business models and provides businesses an alternative to the traditional model of buying and installing software on their own equipment.
Instead of selling physical packages of software, salesforce.com uses what is known as the cloud computing model. Theres nothing physical to buy or install. Users access software via the web. The company charges customers a monthly fee for each registered subscriber that uses its web-based software and platform.
Social and Economic: Greg Allgood and Philip Souter, Simple water purification process

Dr Philip Souter was a research scientist working at a Procter & Gamble (P&G) facility in the UK, studying how to recycle