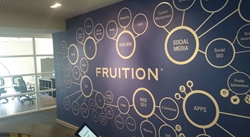 Denver, CO (PRWEB) March 23, 2015
Fruition, a 12-year-old leading Colorado digital marketing agency and SaaS provider, announced today the expansion of its leadership team with three key hires and internal promotions. The new leadership additions expand Fruitions mission of providing first-class digital services, and readies the company for strategic acquisitions.
David Chapman, a seasoned finance executive and CPA, was recently hired as Fruitions new CFO. Chapman brings 19 years of business experience, specializing in management, accounting and audits. Prior to Fruition, Chapman was a lifelong resident at RubinBrown, a CPA firm headquartered in St. Louis, where he focused on tax services, audits and assisted in technology projects. A St. Louis native, he is an avid St. Louis Cardinals fan and holds a masters degree in information management from the citys prestigious college, Washington University.
Joe Malouff, previously Fruitions Interactive Project Manager, was recently promoted to Director of Interactive Media. Malouff holds a bachelors degree in business marketing and has over ten years experience in the website design industry. Along with his focus on digital project management services, Malouff also holds a passion for website usability and web standards.
Chance Carlin was recently promoted to Fruitions Director of Ecommerce Services where he will manage the Magento development team. Carlin possesses the unique combination of a strong business acumen and an aptitude for creative thinking. He holds a bachelors degree in graphic design and interactive media and currently oversees all client video production projects, from concept to final export.
2014 was a tremendous year for Fruition. We experienced 70 percent growth year-over-year and are on track to maintain a similar growth rate for this upcoming year. Melanie Davidson, President of Fruition said. We are thrilled to be expanding our leadership team to better position us to serve our growing customer portfolio and enable us to continue to scale.
About Fruition

Founded in 2003, Fruition is a Colorado leader in digital services including SEO, SEM, social, public relations, web development, mobile apps and digital signage. The company has recently been listed as Denver Business Journal's "Best Places to Work" and INC 5000's "America's Fastest Growing Private Companies." Fruition was also recently featured in The Denver Post's Progress Colorado and is a registered service mark.
For press inquiries, contact Lisa Cozad, Fruition PR Services at (303) 952-0139 or email lisa.cozad@fruition.net