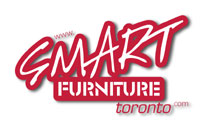 Toronto, Ontario (PRWEB) April 11, 2013
It all began on a rather more sedate Queen Street West, fifty years ago. Smart Furniture, to this day proudly family-owned, opened its doors to downtown Toronto and began a condo and home furniture business based on sound knowledge and excellent service.
Since then, the company has moved from its Queen Street West location exclusively to the online world. Now, as they break the half-century mark, Smart Furniture Toronto continues to offer exceptional products and affordable prices to its customers.
Smart Furnitures line of Classic Dinettes and other retro diner furniture are similar to the ones they were selling 50 years ago, but with todays high quality advances in the materials used. When my Father Sidney started the business back in 1963 I do not think he would have imagined the Classics we are selling today, said Owner, Eric Menkis. I feel honored to be part of this experience with my father.
Smart Furniture wishes to express gratitude to the many customers of all generations without whom Smart Furniture would not still exist. To that end, theyve announced a 50th Anniversary Sale. For more information on product and sale prices visit http://www.fslocal.com/toronto/retro-dinettes-by-smart-furniture-toronto/.
FS Local is a fun new Canadian Web business directory based in Toronto, Ontario. The company provides Internet marketing, advertising and consulting services for small businesses, with focus on local social media web marketing solutions. Smart Furniture is a proud member of the FS Local Toronto business community.