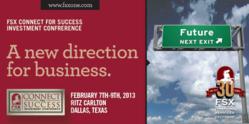 Dallas, Texas (PRWEB) December 18, 2012
The premier investment conference organization in the United States, Financial Services Exchange (FSX) has an Exclusive Reg A plus Education Course Video available on fsx.interlinked.com. During the 117th quarterly FSX event in Phoenix Joseph Cerbone of Freedom Investors Corp. moderated a panel consisting of Rob Kaplan, Managing Partner of Kaplan, Voekler, Cunningham & Frank, PLC, considered the "Guru" of Reg A. along with Paul Getty, Co-Founder of First Guardian Group and Jon Merriman, Co-Founder and CEO of Merriman Holdings Inc. The SEC Website lists and encourages viewers to leave comments relative to Reg A.
FSX has also officially announced the dates for their next investment conference. The conference will take place in Dallas, Texas, at the Ritz Carlton, from February 7-9th, 2013. Due to strong demand they have decided to open early registration for its members. Based on current demand we are expecting to have another sold out event. We have made some very significant announcements this year and the public is clearly paying attention stated FSX Executive Director, Judy Ensweiler.
Ive never seen so much excitement around an investment conference; something has really changed since the launch of InterlinkedTV. FSX is the only conference I know of that can give its companies global exposure for months after a conference. Dont take my word for it; go to Google/news then search FSX and see for yourself. I have no doubt once FSX opens registration for companies the conference in Dallas will sell out just like the last one. stated CEO of Interlinked Delray Wannemacher.
The conference will be attended by Private and Public Companies, FINRA licensed broker dealers, Investment Bankers, fund managers, RIA's, CFA's, Private Equity, Venture Capital firms and Companies that have a product or service that is used by independent broker dealer firms and or emerging growth companies.
Visit FSX Interlinkeds Web Channel to watch the exclusive interviews of the companies that presented at the FSX October 2012 Investment Conference such as:
Murphy Mining