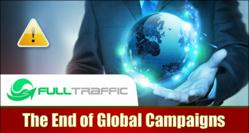 Philadelphia, PA (PRWEB) June 12, 2013
FullTraffic, the go-to company of advertisers who need to buy traffic, today announced that it will stop offering Global Traffic on July 1, 2013. The move will enable the company to deliver better and higher converting traffic to its customers.
Current Global Traffic campaigns will continue to run until completed, and customers with Global campaigns can turn on their auto-renew feature if they want to keep them running on their accounts. However, new Global Traffic orders will no longer be taken after the month of June.
A Move to Improve Traffic Quality for Users

The decision to discontinue Global Traffic has been on the table for the past several months. FullTraffic has been taking steps to improve the quality of its products as well as the experience of advertisers and publishers in its network.
Weve been working hard to take FullTraffic to the next level, and our Global Traffic product just doesnt meet the new high standards that weve set for the company, said FullTraffic CEO Federico Einhorn. He furthered that they only want the best for their customers, which is why theyve decided to only offer targeted traffic starting July 1st.
According to Einhorn, while some of their customers might miss FullTraffics Global Traffic capability, the companys decision to discontinue it is still the best move in the long run.
The CEO also said that by only letting users buy targeted website traffic, theyre encouraging customers to run better campaigns and get a higher ROI.
Yes, a number of our advertisers and publishers probably wont like the fact that were removing this feature, but were willing to go through with it anyway, because we know that its the right thing to do when it comes to improving traffic quality for users.
Making the Most of Targeted Traffic and the Company Blog

FullTraffic is encouraging its customers to fully explore the capabilities of its IP Unique Targeted Traffic product. Our targeted traffic feature really lets advertisers be specific with their targeting, said Einhorn. He continued, IP Unique Targeted Traffic lets customers buy traffic and target visitors by location and search keywords. Were inviting them to make full use of these capabilities so they can see better results.
Einhorn also emphasized the importance of following the FullTraffic blog. Weve really taken the content up several notches. People can get a ton of information on how to drive traffic, as well as how to properly use SEO, content marketing and social media to boost their brand and get more customers.
About FullTraffic
A leading provider of website traffic for all kinds of businesses, FullTraffic offers various solutions that can help advertisers reach target customers, drive real visitors to their websites, and boost rankings. FullTraffic has an extremely wide reach as it runs its very own ad network comprised by over a million websites. Learn more at http://www.fulltraffic.net.