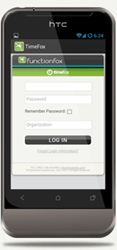 Victoria, British Columbia (PRWEB) October 08, 2013
The power of TimeFox is now available to users of Android devices, as FunctionFox releases its new Android app.
The app allows Android users to easily make timesheet entries. "When you're on the go, it's easy to forget to track your time," says Corina Ludwig, President at FunctionFox, "But what you don't track, you can't bill. This app makes it easier for people to capture billable time whenever they have the chance."
The new app is free to download and works on any Android device running Android 2.2 and up. "As partners in our customers' success, we believe this simple, free tool can make a big difference," says Ludwig, "The easier we make it for people to record time, the more profitable companies can be."
The TimeFox Android app joins the growing list of TimeFox add-ons, which include an iPhone and iPad app, a Timesheet Widget for Mac users, and a file exchange add-on called Flink.
For more information and links to download the TimeFox Android app, visit http://www.functionfox.com/timefox-add-ons/android-app.aspx.
About FunctionFox

FunctionFox is the leading provider of time and project tracking software for small creative companies. TimeFox, its web-based timesheet and project management software, is the number one ranked time-tracking system in North America. Graphic design, advertising, communications, marketing, multimedia, public relations, and interactive firms all choose TimeFox as their web-based time and project management application. TimeFox is currently used by thousands of customers in Canada, the US, Europe, Asia, Australia and New Zealand.
For more information please visit http://www.functionfox.com or contact:
Corina Ludwig, President

FunctionFox Systems Inc.

#2-415 Dunedin Street

Victoria, BC, Canada

V8T 5G8
Toll-Free: 1.866.369.8463

Tel: 1.250.479.1285

Fax: 1.250.479.1285

Email: info(at)functionfox(dot)com