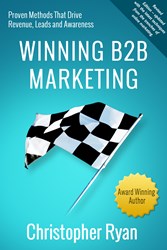 Colorado Springs, Colo. (PRWEB) December 16, 2013
Business-to-business (B2B) marketing firm Fusion Marketing Partners (FMP) today announced that founder and CEO Christopher Ryan will publish his new book, "Winning B2B Marketing: Proven Methods that Drive Revenue, Leads and Awareness" in early 2014. The book is a partial reprise of his 2009 work, "How to Create an Unstoppable Marketing and Sales Machine," with expanded content and new chapters on content, mobile and online marketing, and sales lead management.
Ryan leveraged his decades of B2B marketing and sales experienceas a Silicon Valley veteran (PeopleSoft, Sybase), Colorado B2B marketing executive (Stellent, Optika) and founder of a growing B2B marketing agency with clients across the globeto craft a turnkey strategic primer for B2B marketing and sales leaders who are accountable for better performance in the form of increased awareness, leads and revenue. Ryan shares the proven best practices that have made him one of the countrys foremost practitioners, speakers and writers in B2B marketing, offering straightforward, incisive insights that will quickly improve B2B sales and marketing performance.
"I wanted to share more of what our agency and I have learned since publishing my 2009 book, which was the distillation of everything that I had seen work at companies big and small," said Ryan. "After decades of using and refining marketing practices, I can say with confidence that these methods work well, and any B2B marketing professional that wants a clear path through the buzzword jungle to real results will benefit greatly from the time they invest in learning these proven strategies."
"Winning B2B Marketing: Proven Methods that Drive Revenue, Leads and Awareness" will be available in print and e-book format in early 2014. Promotional chapters will be offered free of cost in advance of the publication. Review copies are available upon request.
About Fusion Marketing Partners
Fusion Marketing Partners (FMP) is an expert outsourced B2B marketing provider that specializes in helping B2B companies turn around their stalled or underperforming marketing and sales operations and build value in their business. FMPs strategic expertise and vigorous execution of proven tactics has quickly driven measurable improvements in awareness, leads and revenue for B2B clients across the U.S. The company was founded by principals with deep experience in B2B marketing, sales, business development, web development, web marketing, and public relations from successful startups to Silicon Valley giants. To find out more, visit http://www.fusionmarketingpartners.com.