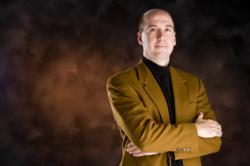 Washington, DC (PRWEB) September 14, 2012
The next decade is only a handful of years away. What might the world of 2020 like look like? How will you and your business have changed? More importantly, how will you and your organization need to change?
The answer, in two short words, is: a lot!
Consider this: Eight years ago Facebook, YouTube, Twitter and Wikipedia didnt even exist; neither did the iPhones, iPads, apps or Kindles. Now, fast forward eight years into the future and try to comprehend how accelerating advances in information and communication technologies, the Internet of things, social media, robotics, artificial intelligence, nanotechnology, biotechnology, brain-neural interfaces, gaming dynamics, crowd-sourcing and open-source sharing platforms will continue to drive seismic change and deliver paradigm-shattering transformation to nearly every facet of society.
Its not easy.
In these two new and engaging keynote presentations based on his latest book 'Foresight 20/20: A Futurist Explores the Trends Transforming Tomorrow' and his forthcoming book 'Business as Unusual: 19 Strategies for Future-Proofing Your Business', globally renowned futurist, change management expert and best-selling author Jack Uldrich will not only take the guess-work out of understanding the near future by providing an in-depth exploration of how ten technological trends will transform the world of 2020, he'll explain how to future-proof your business.
Whatever your industry, association or organization, Jack Uldrich will work with you and your staff to create a customized presentation designed to not only energize and enlighten your audience but also provide them with the inspiration and ammunition necessary to harness these trends and create their own successful future.
In the past year, Jack has addressed dozens of corporations, organizations and associations, including IBM, PepsiCo, United Healthcare, Cisco, Southern Company, WiPro and Lockheed Martin. For a complete list of past clients, click here.
Parties interested in learning more about Jack Uldrich, his new keynote presentations, books, daily blog or speaking availability are encouraged to visit his website. Media wishing to know more about his views as a corporate futurist may contact him at 612-267-1212 or jack(at)schoolofunlearning(dot)com.
Jack Uldrich is a renowned global futurist, best-selling author, popular business keynote speaker, editor of the monthly newsletter, The Exponential Executive, and host of the award-winning website, http://www.jumpthecurve.net.