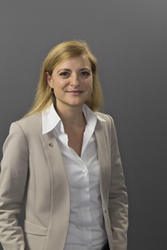 Bochum, Germany (PRWEB) April 03, 2015
Julia Molzen has been Global Marketing Director B2B at G DATA Software AG since January 2015. In this newly created position with the IT security provider, the experienced manager is responsible for the global marketing strategy for solutions for business customers, including ongoing development of the partner program. This new appointment sees the Bochum-based company further develop its market position in the business segment and strengthen the channel. Judith Globisch, formerly Head of Online Marketing and now Global Marketing Director B2C, is responsible for the global marketing of G DATA solutions for consumres. Since November 2014, the Digital Marketing sector has been led by Andreas Schneble, Global Digital Marketing Director.
"We are delighted to welcome a marketing expert so experienced in the B2B sector such as Julia Molzen into our marketing team. In view of the ongoing internationalisation of G DATA Software AG, it is important that the global marketing strategy for our solutions continues to evolve. In Julia Molzen and Judith Globisch, we have dedicated experts for both our B2B and B2C marketing activities."

Walter Schumann, Managing Director at G DATA Software AG.
About G DATA

IT security was invented in Germany: G DATA Software AG is the antivirus pioneer. It was more than 29 years ago that the company, founded in Bochum, developed the first program to combat computer viruses. These days, G DATA is one of the world's leading providers of IT security solutions. G DATA, Inc. is the U.S. Subsidiary located in Atlanta, GA.
For more information about the company and G DATA security solutions, see http://www.gdatasoftware.com
For sales inquiries in North America please contact Contronex, Inc.