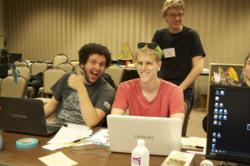 Chevy Chase, MD (PRWEB) January 15, 2013
The changing face of digital philanthropy has shown its astounding potentialgaming group Speed Demos Archive (SDA) raised over $ 425,000 for charity at their third annual six-day, nonstop video gaming marathon that wrapped up on Sunday in Chevy Chase, MD. Over 9,600 donors contributed over 15,700 donations with an average donation of $ 27 for the Prevent Cancer Foundations cancer prevention and early detection research, education, advocacy and community outreach programs. By the final afternoon, donations were averaging $ 1,000 per minute. Almost tripling last years total of $ 145,000, SDA has raised more than $ 725,000 for Prevent Cancer over the past three years. Last years marathon raised enough to fund a two-year research grant awarded to support a study that has the potential to lead to an early detection test for stomach cancer, the second leading cause of cancer death worldwide.
SDA focuses on speedrunning, or completing video games in the shortest amount of time possible. Grown from a small group playing in an organizers basement, this years Awesome Games Done Quick (AGDQ) had over 110 on-site participants and tens of thousands of viewers at any given time watching the live stream from all corners of the globe. SDA members traveled in from all over the U.S. and internationally (Australia, Canada, Finland, Germany, Sweden and U.K.) to show their support and participate in the marathon.
When we came into this years marathon we had no expectations at all of how much we would raisewe are still in disbelief of the results of this years marathon, said event organizer Mike Uyama. We are really happy to be working with the Prevent Cancer Foundation, its such a great causeits the only cancer nonprofit that works toward preventing cancer before its diagnosed, and they really went out of their way to support us by visiting on-site, helping with food donations, promotion and overall guidance.
Many of the gamers at the marathon talked about how cancer has touched their lives. One of those amazing stories came from three-time participant and cancer survivor Marc Dziezynski, who recounted, while playing, how he spent his 21st birthday in a hospital undergoing chemotherapy treatment. He and his wife Jessica have participated in all three marathons and Jessica attributes Marcs love of gaming as having helped him through the difficult cancer treatment.
The Foundation staff and board continue to be amazed each year by the commitment, time and talents of SDA and the thousands of individuals that donate and share their personal stories of being touched by cancer, said Jan Bresch, Executive V.P. and C.O.O. of the Prevent Cancer Foundation. We are extremely thankful to SDA for their tireless work to Stop Cancer Before It Starts!
For more information on SDA, visit the groups site: http://marathon.speeddemosarchive.com.
About the Prevent Cancer Foundation:

The mission of the Prevent Cancer Foundation is to save lives through cancer prevention and early detection. Founded in 1985, the Foundation has provided more than $ 130 million in support of cancer prevention and early detection research, education, advocacy and community outreach nationwide. For more information, please visit http://www.preventcancer.org