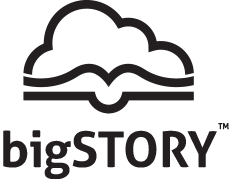 (PRWEB) April 29, 2015
GameChangers, a Los Angeles-based company that specializes in improvisation for business communication, and Beehaus, an Austin-based company focused on content marketing and brand strategy, have announced their merger to form a new company, bigSTORY.
bigSTORY, co-located in Los Angeles and Austin, will be the worlds first company to offer a commercial application of quantum storytelling, an emerging organizational science that has been in development since 1994. Created by Dr. David Boje, who holds the Wells Fargo Professorship in the School of Management at New Mexico State University, quantum storytelling has been shaped and informed by the contributions of a global network of scholars and practitioners specializing in critical organization theory, quantum mechanics, game design, entrepreneurship, business ethics, neuro-linguistics, and multi-media and multi-cultural storytelling.
bigSTORY offers a proprietary game-based system called ERGO for story analysis and creation in complex systems. The ERGO system can be applied to organizational effectiveness, brand communication and data analysis.
Jeremi Karnell of Beehaus joins bigSTORY as CEO, while Mike Bonifer of GameChangers serves as its Chief Creative Officer.
Prior to launching Beehaus in 2013, Karnell was the co-founder and CEO of One to One Interactive, a Boston-based digital marketing agency whose clients included Comcast, Liberty Mutual and GlaxoSmithKline. In late 2013, Jeremi sold a start-up he co-founded, called OfferGraph, to PolyGraph Media in Austin, TX. OfferGraph was an early-stage multitenant SaaS platform which allowed brands to identify, connect with, and monetize relationships with key influencers and their social networks. He helped acquire OfferGraphs core IP and team from Harvard University, which was beta-testing with major social networks such as LinkedIn.
"Combining Beehaus digital content marketing pedigree with GameChangers organizational storytelling capabilities is a powerful combination that Bonifer and I recognized immediately," said Karnell. "bigSTORYS focus on accounting for how stories are created, live in networks and influence behaviors addresses a massive need in the marketplace as enterprise marketing budgets continue to shift towards both owned and earned media channels."
Bonifer is a visionary in new media and storytelling. During a long association with the Walt Disney Company, he helped introduce computer graphics to the world with Tron, was a founding producer of The Disney Channel, and produced many of Disneys first internet ventures, such as the websites for "Toy Story" and "The Lion King". In 2007, he served as Chief Storyteller for the Live Earth concerts for the environment. That same year, he wrote GameChangersImprovisation for Business in the Networked World, and co-founded the company GameChangers, which taught improvised storytelling to clients such as Skype, Gawker Media, Gap Inc. and Allstate.
Says Bonifer: "Ive been what you could call a professional storyteller my entire career. At Disney, I learned from the best. I thought I knew a lot about storytelling, but when I came across the concept of quantum storytelling, I felt like an idiot. Id never seen anything like it. Here was this beautiful, almost-unknown body of work that accounts for how stories live in networks, and shape organizational behaviors. Its deep science, and weve spent five years understanding it well enough to make it commercially viable. I think its going to revolutionize the way our clients can apply storytelling to their work."
In addition to Karnell and Bonifer, bigSTORY'S principals are Dr. Virginia Kuhn, Associate Professor of Media Arts and Practices at the USC School of Cinematic Arts, and Ian Karnell, the CEO of Montext. Both will serve in advisory roles for the new company. Other advisors to bigSTORY include Dr. David Boje of New Mexico State University, Ivy Ross of Google Glass, and John Seely Brown, former director of Xerox PARC and Co-Chairman of the Deloitte Center for the Edge.
Relevant Links:
bigSTORY website: http://www.bigstory.biz

GameChangers website: http://www.gamechangers.com

Beehaus website: http://www.beeha.us

Mike Bonifer bio: http://en.wikipedia.org/wiki/Mike_Bonifer

Jeremi Karnell bio: https://www.linkedin.com/in/jeremikarnell