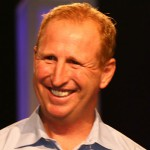 New York, NY (PRWEB) September 29, 2014
The engagement power of game dynamics will be showcased at PR News Social Media Conference on Oct. 9 at the Grand Hyatt in New York City. Gamification innovator Steve Shenbaum, founder and president of game on Nation, will keynote the conference.
Shenbaum has helped leading athletes such as Eli Manning, Yao Ming, Alex Smith and Sidney Crosby, as well as NASCAR, the United States Olympic Committee, Pittsburgh Pirates, Cleveland Cavaliers, Florida State Football, University of Kentucky Basketball, Honda, Acura, TD Waterhouse, Wounded Warrior Project, and the U.S. Army, Air Force, Navy and Coast Guard in partnership with the USO, promote their brands and build teamwork using game dynamics and improvisation.
In his keynote address, Using Game Dynamics to Make Your Messages Stick, Shenbaum will show attendees at the Social Media Conference how to harness game dynamics and incorporate these powerful techniques to move their audiencethrough face-to-face and digital communications.
The science of game dynamics is fueled by play, laughter and our natural instinct to connect with one other, says Shenbaum. We can embed these dynamics in everything we do. When used positively and responsibly, these powerful motivating techniques can help PR professionals communicate ideas that cause audiences to not only care about the message, but remember it forever. And getting the message to appropriately stand out and stick is imperative when navigating in such a crowded marketplace.
At the Oct. 9 Social Media Conference in New York, leading digital communicators from Alembic Health Communications, American Heart Association, DoSomething.org, D S Simon Productions, EMC, GE, Google, Finn Partners, Hotels.com, JetBlue Airways, KPMG, Lockheed Martin, Peppercomm, the Rockefeller Foundation and Transamerica will share strategies, tactics and case-study examples of how they are using social media communications to build brand awareness, drive the bottom line and compete for fractured attention spans.
The next morning (Oct. 10), also at New Yorks Grand Hyatt, PR News is presenting its SEO Workshop: What Communicators Need to Know Now About SEO. The workshop will be led by Mike Samec, director of digital strategy for Gibbs & Soell Business Communications.
The Social Media Conference is sponsored by Investis and will include lunch and multiple networking opportunities. Register now at http://www.socialmediaconfny.com. For questions regarding the conference, contact PR News Laura Snitkovskiy at lsnitkovskiy(at)accessintel(dot)com.