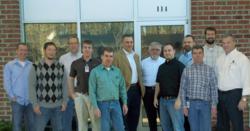 Harrisburg, Pennsylvania (PRWEB) January 31, 2013
Gannett Fleming has acquired Griffin Engineering and Technical Services, headquartered in Morrisville, N.C. Effective January 13, Griffin Engineering became part of Gannett Flemings national Mechanical Engineering and Electrical Engineering Practices, bringing a wide range of professional engineering services.
Through the acquisition, Gannett Fleming expands its presence in the Research Triangle region of North Carolina, where the firm has a Raleigh office that specializes in the planning and design of transportation and environmental projects. It also broadens Gannett Flemings capabilities with the addition of TAB assessments and increases its client base in the healthcare, pharmaceutical, biotech, and commercial industries.
This new dimension to our market coverage complements our growth strategy and offers our clients a broader array of building and system services from one source, said Robert M. Scaer, P.E., president and COO of Gannett Fleming. Expanding in a prominent, high-tech research and development area underscores our commitment to deliver fresh, innovative solutions that solve our clients challenges.
Services include more extensive engineering design; current Good Manufacturing Practices (cGMP), commissioning, and qualification; testing, adjusting, and balancing (TAB) of heating, ventilation, and air conditioning (HVAC) systems; building systems commissioning; energy analysis; and LEED