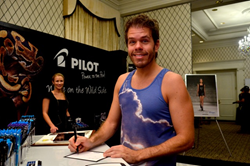 New York City, NY (PRWEB) September 08, 2014
GBK (gbkproductions.com) – the luxury lifestyle gift lounge and special events company, partnered up with Pilot Pen for a luxury gift and style lounge celebrating New York Fashion Week at the Empire Hotel, New York City. GBKs motto for this yearly event is Its all about style!, and everything from jewelry to the ultra stylish array of writing instruments from Pilot Pen made the lounge a true highlight among the Fashion Week festivities.
Everyone from Perez Hilton, to Jonathan Cheban, to the Cast of Orange is the New Black and more attend the event and made sure to pick up their special gifts from Pilot Pen. Pilot Pen offers superlative writing instruments renowned for quality, performance, cutting-edge technology and consumer satisfaction. Guests received a FriXion Clicker, an erasable pen that is uniquely designed to write smooth and erase clean, making mistakes disappear and you perfect! As well as the stylish MR Animal Collection of writing instruments that are designed to provoke your wild side while providing high style and delivering superior writing performance, and an elegant trifold Pilot Journal for your writing pleasure.
As guests arrived they were greeted by drinks from Partita Tequila and Svedka Vodka, the eclectic sounds of DJ Max Power (http://www.mattpreis.com) and wonderful floral designs from Floral Heights Flowers and Events. Floral Heights is located in Historic Brooklyn Heights New York and offers exquisite flowers and event designs for every occasion. Also contributing to the design of the lounge was BloomNation.com. Bloom Nation is the "Etsy for Flowers", allowing you to shop directly with over 2,500 top local artisan florists in more than 3,000 cities nationwide.
Highlights of the lounge included gifts from Presenting Sponsors Michael Todd True Organics and Hard Candy. Michael Todd True Organics