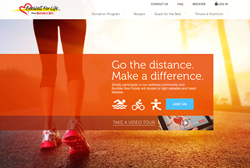 San Francisco, CA (PRWEB) September 09, 2013
The Summit International Marketing Effectiveness Award (MEA) recognizes and rewards companies for innovative and leading edge creative work. The 2013 awards saw more than 800 entries from nine countries. Coming out on top with Platinum honors in the Website category is, full-service digital marketing agency, Geary LSF.
We are honored to receive the Platinum Award for Best Website for our work on the Bumble Bee Foods BeeWell For Life campaign, said Geary LSF Creative Director, Kevin Hird. This award is a testament to our teams hard work and dedication to delivering the very best results to our clients, but its also a result of the great work Bumble Bee is doing for our communities. Its not every day that a client campaign allows you to do the work you love for a great cause; the BeeWell For Life campaign does just that. Were pleased to share this award with our client, and thank them for allowing us the opportunity to be a part of their cause.
The Summit MEA competition is based on the premise that the goal of marketing communications is to change, influence, or reinforce a target audiences knowledge, attitudes or beliefs. Using this premise as a basis for its judging criteria, the competition is a true arbiter of marketing communication effectiveness. To learn more about the Summit International Awards and see the complete list of honorees, visit the SIA website here. .
About Geary LSF Group

Geary LSF is an integrated full-service online marketing group that delivers more results per campaign by uniquely optimizing the digital customer engagement path. It provides advertisers with comprehensive services all under one roof: from Strategy to Development, Media Planning to Placement, SEO, SEM, Analytics, Social, Local and Mobile media services. Headquartered in San Francisco, California, the 240-people strong Geary LSF Group has offices on two continents and manages campaigns for more than 450 brands worldwide including WD-40, Bumble Bee Foods, MegaPath, Aramark, Ashley Furniture, Target, Club Med and several others. For more information, please visit http://www.gearylsf.com. For New Business Inquiries: sales(at)gearylsf(dot)com.