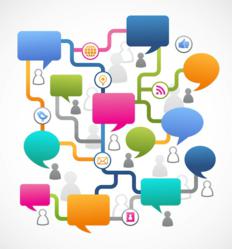 Seattle, WA (PRWEB) February 07, 2013
Geekly Group, LLC, a full service provider of digital media managed service solutions, announced its sponsors for the February 13th and 19th, Seattle, Washington and Tacoma, Washington digital marketing roundtable events. EHS Design will host the February 13th Seattle event at its offices in the historic Exchange Building at 821 2nd Avenue in downtown Seattle. The Tacoma event host is BiNW. Roundtable executives will gather in its new waterfront office located at 1707 Dock Street.
The planned topic for Februarys digital marketing roundtables is Avoiding the Sins of Social Media Marketing. Guests will be encouraged to share both their challenges and successes in this ever-changing space. Seating is limited to a maximum of twelve attendees in order to foster an open discussion, where all have the opportunity to participate and share.
"Social media is the new way to connect with potential clients. However, understanding all of the nuances of social media can be daunting, so it makes sense to share with others facing the same challenges." observed Sean O'Brien, President of BiNW.
We are excited to be co-hosting this event with Geekly Group at our offices in downtown Seattle", commented Mia Marshall, Principal at EHS Design. "Social media presents us with exciting new ways to share our business vision with our clients. Having a clear understanding of what digital media has to offer is essential to our success.
This event, Marshall continued, provides EHS with a fantastic and intimate forum to learn and share with others that face similar issues.
"B2B Marketing has always presented challenges", agreed Don King, Vice President of Sales for BiNW. "Today's social technology presents new and exciting ways to connect with clients, but only if you know how to properly navigate the digital landscape. Co-hosting this event with Geekly Group provides BiNW with new ways to learn how other business verticals are tackling the digital frontier."
We are very excited to have such gracious and spectacular hosts for these digital marketing roundtables. Their spaces are perfect for our attendees, providing great venues to collaborate and discuss todays digital marketing challenges, remarked Trent Livingston, CEO of Geekly Group.
Geekly Group recommends business owners and executive level marketers interested in an invitation to a future roundtable to contact them at their convenience. Businesses interested in hosting a digital marketing roundtable event are encouraged to contact Geekly Group directly for details. There is no charge to sponsor an event. All that is required is a central venue that can accommodate at least twelve to fourteen people comfortably.
About EHS
EHS Design is a full-service, fully integrated, interior design and architecture firm headquartered in Seattle, Washington, with projects and clients throughout North America. The 35-year-old firm provides architecture, interior design, space planning, and strategic facilities planning for corporate, financial, retail, healthcare and public sector clients.
About BiNW
From furniture and demountable walls to lamps and fabrics, BiNW has been supporting architects and designers for over 30 years. The company is proud of its professional partners because it knows BiNW helped improve efficiencies in the beautiful workspaces they created. Just as important however, is BiNWs ability to directly partner and serve the K-20, healthcare and government sectors.
About Geekly Group, LLC
Organized in 2010, Geekly Group, LLC is a full service provider of digital media managed service solutions. Its data driven digital media consortium is made up of highly talented, full-time and contract technology professionals that span multiple spectrums of digital media. Geekly Group provides affordable managed service plans for social media management, web development, data analytics and graphic design to their clients. The firms depth of experience and extensive technical network, paired with its intellectual property is what creates a direct link between a companys digital media efforts and increased sales.