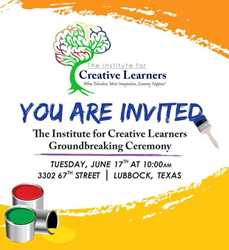 Lubbock, Texas (PRWEB) June 15, 2014
The Institute for Creative Learners is focused on assisting those students who struggle with learning as a result of Dyslexia and other learning differences. However, rather than focus only on the challenges associated with Dyslexia, the Institute seeks to capitalizes on their inherent creativity and artistic ability.
According to Ms. Condra, "These children are 'out-of-the-box' thinkers. They are the innovators, inventors, entrepreneurs, and artists of their generation. In fact, more than one third of successful US entrepreneurs are reportedly dyslexic."
Further, Ms. Condra states, "The children we serve are full of amazing potential that is only limited by what they believe they can do. Without intervention, (the earlier the better) these children can suffer a hit to their self-esteem that can be irreparable. Without intervention, our world can be deprived of their spark deprived of the next great inventor, artist, or entrepreneur — deprived of innovations that can make our world better. At the Institute, we help these children see their own potential. We foster their strengths while we address their needs. We nurture their spark."
The Institutes programs so far include:

1. After-school program Children come After School and stay until 6:00pm M-Th. In that time, they receive reading instruction, homework help, tutoring, and enrichment activities focused on art, science, technology, or engineering. Depending on need, the children receive "Take Flight" Dyslexia Instruction developed by the Scottish Rite.

2. Pre-Flight program The Institute provides reading readiness instruction for 4-5 year olds also developed by the Scottish Rite.

3.