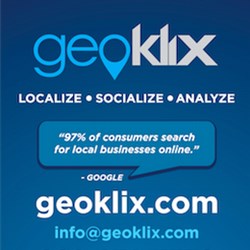 Los Angeles, CA (PRWEB) December 03, 2013
Geoklix (http://www.geoklix.com), a local PPC/SEO and Internet marketing firm based in Los Angeles, California has earned the coveted title of Google Partner.
Local online marketing agency Geoklix has announced a new partnership with Google, confirming that Geoklix has established itself as a major entity in the field of local online advertising.
You know your business, said founder and CEO Art Yeranosyan. We know local search & ecommerce marketing, let our certified experts manage your online marketing, so you can focus on running your business.
As a Google partner, Geoklix will now have first access to the latest marketing tools, products, and be invited to attend exclusive Google partner events to stay ahead of the curve. Most importantly for clients, the partnership indicates a rare level of online advertising expertise. Only those marketing firms that have passed the Google administered exams every 18 months and demonstrated top-tier skills in online marketing may gain this sought-after opportunity with Google.
To become a Google Partner, Geoklix had to meet stringent professional guidelines. The agency had to run at least $ 10,000 worth of ads within 90 days, run at least 60 days of active campaigns, follow the AdWords Certified Partner Disclosure and offer excellent client support.
Geoklix primarily focuses on helping small to medium sized businesses gain new customers via local search and Google shopping. They may do this by launching a geo-targeted AdWords campaign, researching industry keywords, optimizing existing websites or creating conversion oriented landing pages.
Geoklixs goal is to get businesses noticed by their target geo-demographic, and to ensure that potential customers get a flawless, enticing first impression. They realize that many smaller business owners have not taken the time to develop an online presence, and that Internet marketing is the best way to take these businesses to the next level of success.
Geoklixs expertise extends well beyond local search. The company also creates ecommerce Product Listing Ads strategies and designs product listing ads for maximum exposure in Google Shopping. They employ Google Analytics and both keyword level call and purchase conversion tracking to carefully monitor traffic and sales, consistently improving ROI (return on investment). Geoklix also manages AdWords display advertising (retargeting) to help businesses create broader online awareness and help them rise above the competition.
For an assessment on how to maximize your PPC and SEO campaigns in light of the recent changes, get in touch with Geoklix.com today!
Geoklix has long held a reputation as a top online marketing agency in Los Angeles, and clients can now expect to gain even greater exposure thanks to the esteemed Google partnership. With their broad skill set and Google-backed training and support, Geoklix is indeed the premier choice for local online marketing in Los Angeles.
For more information visit: geoklix.com and https://www.facebook.com/geoklix.