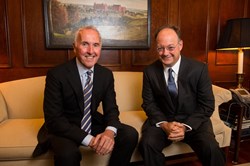 (PRWEB) September 18, 2013
Georgetown University today announced that it will make a transformational impact on the field of public policy through a gift of $ 100 million. The gift, from Frank H. McCourt, Jr. (C75), is the largest in the universitys history and will endow the McCourt School of Public Policy at Georgetown University.
The McCourt School for Public Policy will leverage Georgetowns location in Washington, D.C., its relationships with global leaders and its legacy of public service to launch a new approach to public policy. The McCourt School will contribute policy-based, data-driven research and solutions to the urgent policy issues of our time. This world-class research institution will incorporate the Georgetown Public Policy Institute (GPPI), a nationally ranked graduate program.
Georgetown is uniquely positioned, at this moment in our universitys history, to build on our existing strengths as we grow to meet the needs of the complex and evolving public policy field, says Georgetown University President John J. DeGioia. The McCourt School of Public Policy will build on the foundation we have created while leveraging our most valuable resources our location in the nations capital, our national and global reputation, and our commitment to civil and civic discourse and engagement – to become the premiere academic resource for public policy in the 21st century.
There has never been a more urgent need for this work, says McCourt. The issues facing global leaders are more acute, dynamic and interrelated than ever before. We recognize an opportunity here to serve the world in a new way through an innovative approach to public policy research and analysis.
The McCourt School will compete for the most talented students and faculty. The new McCourt Fellows Program will recruit and offer full scholarships to the country's most qualified future public policy makers and scholars. The new school will expand the existing world-class faculty with five endowed positions and more core faculty positions as the school grows, by increasing interdisciplinary appointments, and providing additional support for stronger inter-institutional collaborations.
Georgetown will deepen its commitment to civil dialogue and strengthen its position as a leader in civil and civic discourse and engagement through the establishment of a new Center for Politics and Policy at the McCourt School.
The McCourt School will also house a new Massive Data Institute, which will harness and navigate the data that new advances in technology and communications have generated in the past decade. The Massive Data Institute will take an innovative approach to shaping public policy by training the next generation of leaders to critically analyze, extract and use these large sets of data to better inform public policy.
The generosity and partnership of Frank McCourt brings to life our vision to connect the Jesuit values of service and justice with a critical need in the 21st century for scholars, leaders, policymakers and organizations to work together in new ways, says DeGioia. Understanding the data now available to us and using it in the creation of public policy will be fundamental to shaping the public policy of the future.
The McCourt family has had a long relationship with Georgetown over multiple generations, and we are very pleased to partner with the university to bring to life the bold vision of a new public policy school, added McCourt. Georgetowns unmatched interconnections with the people, institutions and ideas that shape global public policy make it uniquely qualified to develop the preeminent public policy school for our time.
The McCourt School will become the ninth school at Georgetown University and the first new school since 1957. The university will officially launch the McCourt School for Public Policy at an academic ceremony October 8 and will celebrate at an event with members of the national and international policy communities, dignitaries and Members of Congress in Washington, D.C. on October 9.
For more information on the McCourt School of Public Policy at Georgetown University, read here: http://www.georgetown.edu/mccourt-school-public-policy-announced.html. Please see attached for a photo of President DeGioia and Mr. McCourt at Georgetown.
Media Conference Call
WHO: