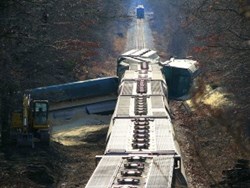 New York, N.Y (PRWEB) December 04, 2013
Facts of the Train Accident:
On Sunday, December 1, 2013, the operator of the Metro-North Train from Poughkeepsie performed an emergency-braking maneuver, causing the train to come to a halt and derailing all seven cars along the curve at Spuyten Duyvil in the Bronx, not far from where the Hudson and Harlem Rivers meet, reported [The New York Times.
The Times further reported that four commuters died and 60 were injured, of which 11 are in critical condition.
Who Is Responsible?
While officials have opened investigations into the cause of the tragedy, it may take some time to piece together the evidence and identify the definitive causes.
However according to The New York Times, preliminary findings suggest that human error, the trains excessive speed, the sharp railroad track curve, and other factors may have contributed to the devastation.
According to Yahoo News, the National Transportation Safety Board (NTSB) has, for decades, been urging railroads to install technology that can stop wrecks caused by excessive speed or other problems. But there has been push back due to the expensive price tag of such systems, the article further reported.
The experienced legal team at Gersowitz, Libo & Korek, P.C. uses great care, diligence and resources to obtain success for persons seriously injured in catastrophic accidents such this recent train derailment, said Jeff S. Korek, a senior partner at Gersowitz, Libo & Korek, P.C.
In fact, in a similar case (Index No.: 22623/06, SUPREME COURT OF THE STATE OF NEW YORK COUNTY OF BRONX) which recently went to Court, the firm was able to secure an $ 18 million settlement on behalf of a seriously injured man from both the City and State of New York by proving they were at fault for not replacing an improper traffic control lane dividing barrier located on the Bronx River Parkway which had been allowed to remain in place despite a prior tragic accident which had occurred at the same location years prior. No expense was spared to bring justice to the firms client or hold accountable those responsible for the roadway defect.
A similar approach may be required to prove culpability in this Metro-North train accident.
Contact Our Firm
If you or a loved one was involved in the NY Metro-North Train Derailment from Poughkeepsie to Grand Central, please call us at 800-529-9997 for assistance or to further comment on the matter. Our experienced attorneys can help you through this difficult process.