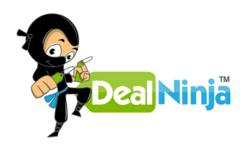 Atlanta, GA (PRWEB) August 27, 2012
Today, Deal Ninja has announced a unique new feature for their website visitors called Deal Finder. This new service works like a concierge, as shoppers can request specific deals on products in a wide variety of categories including everything from clothing and electronics to travel and sports. When a sale occurs that matches a shopper's requests, he or she is automatically notified about the savings.
Deal Ninja co-founder Ronald O'Dell states, "All of our research has shown us that a personalized shopping service like Deal Finder doesn't exist on any other website. In our quest to be one of the best deal sites, we seek to help our web visitors to do more than just randomly find deals online. Through our new system, shoppers are notified about exactly what they want as soon as it goes on sale!"
The Deal Finder feature is simple for shoppers to use. After logging in on the site, they are prompted to type in a description of what they are seeking as well as the applicable category from the drop-down menu. Shoppers can also indicate their target price-range. When deals occur that are either similar or an exact match for requests, shoppers are immediately notified.
At its core, Deal Ninja is different from daily deal sites like Groupon and Living Social. The Deal Ninja team handpicks the best shopping deals and coupons each day. As a result, they go far beyond just offering the full slate of sales from all retailers. O'Dell adds, "Every day hundreds of items go on sale. Before we list a deal on Deal Ninja, we consider whether or not it truly will be valuable to shoppers."
Additionally, Deal Ninja allows visitors to benefit from articles, user ratings and reviews. The website also includes online and printable coupons, contests and giveaways and provides a special section highlighting exclusive discounts for students, military, teachers and seniors.
About Deal Ninja

Deal Ninja is a startup company founded on the principle of helping others save money through online media and mobile applications. The site was originally established by two teachers and a financial analyst who sought to bring to the public their insights for how to find great savings. Deal Ninjas high pre-market growth and fan support affirmed the market potential and necessity for its offerings. DealNinja.com provides a one-stop resource for shoppers to find the best shopping deals and sales from their favorite retail brands (http://www.dealninja.com). For more information about DealNinja.com, its products, or to schedule an interview please contact Ronald O'Dell at 424-234-3325 or email Ronald at rj.odell(at)dealninja(dot)com.