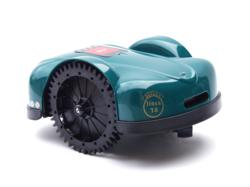 Atlanta, GA (PRWEB) February 07, 2013
Home & Garden Shows are a great way to learn about new products that make owning a home easier and more beautiful. LawnBott Authorized Dealers will be giving away a LawnBott robotic mower to one lucky winner this spring. Simply register to win a free LawnBott at any local LawnBott dealers booth at a Home & Garden show and never mow the lawn again
LawnBotts make having a beautiful lawn easy, because now you dont have to cut the grass. Our robotic mowers will keep the lawn maintained throughout the week leaving time to do the things we enjoy.
LawnBott is a line of robotic mowers that can maintain yards from 5,000 sq. ft. to well over an acre. Using lithium-ion batteries, LawnBotts are a non-polluting alternative to typical gas powered mower. Many models are fully automatic and feature self-recharging, so that a homeowner can enjoy a well-trimmed yard, without the hard work typically associated with yard maintenance.
Kyodo America Industries, Co., LTD, is an Atlanta, GA based manufacturer of lawn & garden products and the LawnBott robotic mowers. LawnBotts were originally developed in Italy and are the leading robotic mower in Europe. Since 2000, our robotic mowers have been helping homeowners maintain their yards without the sweat and aggravation of conventional mowers. To find out more or see a show schedule near you, please visit our website at http://www.LawnBott.com.