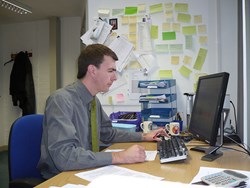 Tallahassee, Florida (PRWEB) October 08, 2013
Social media marketer Nate Long examines the biggest tech-related time-wasters in a new article he published on NateLongMarketing.com today. The article, called "Get Your Life Back: The 7 Biggest Tech Time Wasters and How to Beat Them," also offers suggestions for beating a system that Long says is very much designed to steal time away.
"Its important to understand that the internet experience you encounter each day has been specifically designed to keep you engaged as long as possible," said Long. "Todays technology allows marketers to show only those articles, shopping items, status updates and news items that would be of interest to you. I don't mean for that to scare my readers, but to make them aware. In fact, the tailored web has in many ways contributed to a much more pleasant experience online."
Long agrees that the "tailored web" is both a blessing and a curse, providing relevant and custom content that is likely of interest to internet browsers, but also more likely to drain valuable time.
"The days of irrelevant mass advertising are fading quickly online," said Long. "Through data that users willingly offer Facebook, Amazon, Google, Pinterest and other sites, marketers can target the deepest of niches, sending their message only to those who are most certainly interested."
The article also covers other tech-related time wasters that aren't quite as sophisticated, like a cluttered email inbox. For this problem, Long points to the "Yesterbox" method created by Zappos CEO Tony Hsieh.
To read the full article, "Get Your Life Back: The 7 Biggest Tech Time Wasters and How to Beat Them," readers can visit NateLongMarketing.com.
About Nate Long Marketing

Nate Long Marketing is a strategic marketing consultancy that specializes in the integration of social, mobile, content and PR. Founder Nate Long has helped more than 100 businesses gain exposure, increase sales and build critical relationships with customers. For online marketing tips, visit NateLongMarketing.com. Follow Nate on Twitter for the latest in social media, public relations and mobile marketing.