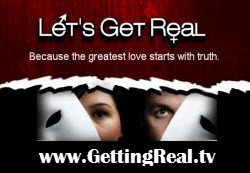 Campbell, CA (PRWEB) March 06, 2013
Relationship Coaching Institute announces the launch of Lets Get Real," a weekly webTV program that promises to "make relationships cool" by challenging the status quo and telling the truth about relationships- no simplistic advice or pie-in-the-sky theories, just a frank, adult discussion about love, sex, and relationships in the real world for the YouTube generation.
Advice Doesn't Work!
Relationships are the biggest source of human joy and frustration. All relationships have challenges and there is no shortage of relationship advice on the internet, television, print media, and elsewhere, most of which is formulaic, unrealistic and misguided. Relationships can fail when partners need solid relationship information and get bad, vague and overly simplistic "one-size-fits-all" recommendations.
Relationships are complex and unique. Columnists, women's magazines, bloggers, TV and radio hosts dishing out relationship advice are entertaining and get good ratings, but their recommendations don't work because real solutions to relationship problems require a collaborative, creative approach that address the unique needs of both parties.