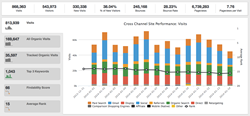 San Francisco, California (PRWEB) March 27, 2014
GinzaMetrics, the global leader in content performance management, today announces the availability of its Channel Performance Insights, providing users with comprehensive insights into the channels driving audiences to their content.
Marketing for brands, products and services is more complex than ever, as it now encompasses a variety of disciplines, often including paid and organic tactics, across a growing list of channels, said Ray Grieselhuber, GinzaMetrics Founder and CEO. In most cases, content is at the core of online marketing tactics.
The Content Marketing Institute reports that 93 percent of B2B brands and 90 percent of B2C brands surveyed are now using content marketing to educate consumers about their brands. Meanwhile, 55 percent of those same B2B content marketers say that their campaigns are ineffective.
To increase effectiveness, its critical for marketers to use data to gain an understanding as to what works vs. what doesnt work, and apply the changes to future campaigns.
Whether youre a one-person army or part of a team of hundreds, understanding and sharing the complete marketing performance behind content consumption for your organization is a challenge, said Grieselhuber. Thats what inspired our new Channel Performance Insights.
While marketers have access to a variety of marketing dashboards and analytics providers today, many of these options create barriers inhibiting easy access to the data needed to understand content marketing performance. Whether they provide analytics for just one segment of the marketing mix, take weeks or longer to integrate, or are cost prohibitive, marketers need actionable data now.
Built on multiple integrations and algorithms, the chart provides the most complete view of how audiences are finding brands. When used alongside conversion and revenue data, real ROI value can be derived and any marketing team member can track KPIs for any channel.
GinzaMetrics Channel Performance Insights surface an interactive overview of all drivers to a users content, including: organic/search engine, email, paid search, comparison shopping engines, social media, affiliate sites, mobile, retargeting, display advertising and more.
To provide flexibility for users, the data range for the data reflected in the chart can easily be modified within the dashboard. The chart can also be exported and downloaded immediately and/or added to existing automated, customized reports.
The charts goal of making it easier to measure marketing campaigns and KPIs through actionable data is the first of many steps GinzaMetrics will take this year to continue to build a superior content performance management platform.
GinzaMetrics currently allows users to segment data by content group, keyword group, conversions, device type, and other elements to enable smarter content marketing decisions.
ABOUT GINZAMETRICS

GinzaMetrics is an enterprise SaaS SEO and content marketing platform. Launched in 2010, GinzaMetrics provides actionable recommendations and analytics to enterprise and agency customers in more than 120 countries and 55 languages around the world. GinzaMetrics is the only solution that provides daily crawls of major search engines including Google, Yahoo!, Bing, Baidu, Sogou, 360 and Yandex. The complete platform delivers competitor insights, keyword and page analysis, link data, recommendations, custom dashboards and reporting. To learn more or get a free 14-day trial, visit ginzametrics.com.