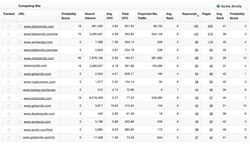 San Francisco, CA (PRWEB) February 23, 2015
GinzaMetrics today revealed their Competitor Discovery feature. The first tool of its kind, Competitor Discovery uses a proprietary algorithm that identifies new competitors based on your brands own content, targeted topics and keywords. Once a new competitor is identified, this feature provides valuable insight into the content, topics, and keywords that are driving traffic from a users site.
The GinzaMetrics platform provides detailed information for both new and existing competitors including CPC, search volume, search ranking status, findability score, and projected traffic data. The Findability Score and Projected Traffic algorithms provide predictive analytics on which to base future marketing, advertising, and content creation decisions.
The Findability Score shows the likelihood you will be found for the topics and keywords youre tracking versus your competition. Users receive information at a granular level to determine findability by keyword group, content group, or conversion type versus their competitors.
Projected Traffic predicts the potential audience traffic to competitor content for the topics and keywords users are tracking, delivering an estimation for each piece of content of potential audience views.
The competitors you know about are only half the battle, stated Ray Grieselhuber, CEO & Founder of GinzaMetrics, For most brands, new competitors are constantly emerging while existing players in the market are shifting focus to create content that drives traffic away from your site. The loss of traffic from the aggregate of these players can be substantial before you are even aware of their existence. Competitor Discovery empowers brands to track up-and-coming competition while discovering new niche or microsites by existing competitors.
Competitor Discovery is the newest addition to GinzaMetrics existing Competitor Insights Suite which includes discovering, monitoring, analyzing, and reporting on your industry and its players. Knowing the importance of staying ahead of the competition, the GinzaMetrics platform provides users with daily monitoring of you and your competitors content, social media, SEO, and paid efforts. GinzaMetrics Marketing Channel Insights view includes detailed information on all channels driving traffic to users content including email, affiliate, mobile, SEO, paid search, advertising, and more to shed a light on what content is successful with which target audience members for the competition and for themselves.
GinzaMetrics is a multi-national company pioneering the science of findability. Designed to meet the needs of any size organization, GinzaMetrics is uniquely positioned to provide marketing strategy to the marketplace with customizable tools, KPI management, and recommendation features. A provider of SaaS analytics, the GinzaMetrics platform provides daily updates and recommendations that go beyond web presence management to help companies and individuals meet marketing and business goals. Founded by Ray Grieselhuber in 2010, GinzaMetrics is an international company headquartered in San Francisco with offices in Dallas, and Tokyo. GinzaMetrics has received funding through Y Combinator and 500startups.