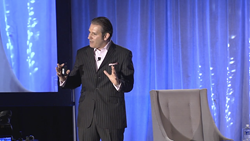 Irvine, CA (PRWEB) January 12, 2015
On January 14, 2015, Glenn Llopis Group (GLG) will launch an online training program designed to help leaders discover their full potential. Lead by GLG Chairman Glenn Llopis, the program is titled Stop Losing Momentum Discover Your Full Leadership Potential and it teaches the characteristics one needs to become a 21st century leader. Llopis is a bestselling author, contributing leadership writer to Forbes and is recognized as a top 100 leadership speaker and business thinker by Inc. Magazine.
As GLG Chairman, Glenn Llopis mentioned in a recent Forbes article, 21st century leaders must have the ability to make the most out of every situation. They must be courageous enough to push the boundaries to make things better. The best leaders know how to maximize their full potential and get the most out of others.
This program is focused on teaching leaders the importance of seeing opportunity in everything; anticipating the unexpected; unleashing their passionate pursuits; living with an entrepreneurial spirit; working with a generous purpose; and leading to leave a legacy. Llopis believes these six characteristics – that have been featured in Harvard Business Review – represent the attitude and approach 21st century leaders need to master to help organizations and their employees thrive in a fiercely competitive marketplace that demands a mindset shift from leaders regardless or hierarchy or rank.
Beyond the content, and Llopis engaging delivery, the multimillion dollar technology platform that supports it revolutionizes the online training experience. According to Brad Lea, Founder/CEO of LightSpeedVT, Through the use of proprietary technology, the GLG interactive virtual training system delivers engaging training, comprehensive testing and progress reporting that is accessible 24/7 on any web-enabled device. It is a product that is truly unique in the marketplace.
For only $ 99, users experience the teachings and wisdom of Mr. Llopis as if he were their executive coach. The online training experience is supported by interactivity, test questions that measure content proficiency and track progress along the way while allowing the user to control the pace of their engagement.
For more information, please visit http://www.StopLosingMomentum.com and/or contact Annette Prieto-Llopis, Vice President of Client Relations at annette(at)glennllopisgroup(dot)com or call 949-387-2609.
About Glenn Llopis Group

Glenn Llopis Group (GLG) – a nationally-recognized thought-leadership, human capital, and business strategy consulting firm whose product and service offerings for Fortune 500 clients as well as entrepreneurs include leadership and talent development, cultural intelligence competency, content marketing, communications, business strategy and modeling, and workplace culture transformation.