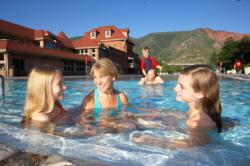 Glenwood Springs, Colo. (PRWEB) April 09, 2013
Glenwood Hot Springs commemorates 125 years of welcoming generations of Colorado families and visitors from around the globe to swim, soak, relax and heal in the worlds largest hot mineral springs pool. As part of the festivities, the resort invites past guests to become a part of hot springs history. A newly launched web page titled Share Your Story encourages patrons to post their favorite hot springs memories along with photos for the chance to win prizes.
I would describe our new 'Share Your Story' page as an online memory album, a virtual scrapbook where guests can tell their hot springs stories and upload pictures that have a special meaning to them, said Jeremy Gilley, director of sales and revenue for Glenwood Hot Springs and Spa of the Rockies. For families who have come here for generations and for those who have recently discovered Glenwood Hot Springs, the Share Your Story page is an opportunity to record a bit of personal history.
Glenwood Hot Springs launched the Share Your Story web page on April 1 and already the site is populated with pictures and the remembrances of past guests and former employees. One couple, Floyd and Lavonne Diemoz, frequented Glenwood Hot Springs during their high school days in the 1950s and later honeymooned there as newlyweds. In a story titled Team Zelenka, author Theresa Zelenka recounts how nine of the 10 members of her family worked at the pool in some capacity since the 1960s, including Dory, the family matriarch who managed the Sport Shop until 2002 when she retired. In another story Buzz Zancanella, a fifth-generation Glenwood Springs resident, recounts how his parents bathed him in the hot springs water to alleviate his childhood rheumatism.
Posting a story to share is straightforward and simple. Guests can go to http://www.hotsprings125.com and select Share Your Story. From there, they fill in the boxes provided, including a personal hot springs story, and upload an image. The page also allows guests to browse other stories and view a collection of historic Glenwood Hot Springs images, many from private collections.
As a special thank you for Share Your Story submissions, Glenwood Hot Springs will select three stories to receive one of the following prizes: a one-night stay at the newly remodeled Glenwood Hot Springs Lodge, a 50-minute massage at the award-winning Spa of the Rockies or a $ 100 gift card that can be used property-wide at Glenwood Hot Springs. Winners will be chosen based on the number of likes stories receive. Website visitors can share and like individual stories via Facebook, Twitter, Google+ or email. To be eligible to win, guests must submit stories and photos prior to July 4.
Share Your Story is just one part of Glenwood Hot Springs 125th anniversary celebration. The official celebration is scheduled for Saturday, May 18. On that day guests will receive pool admission for the nostalgic price of $ 1.25 with the purchase of a full-priced pool admission (the discount applies to the lowest-priced admission), and the first 500 families to arrive will take home goody bags filled with an assortment of Glenwood Hot Springs gear! The resort will also be hosting a number of events and activities throughout the day, including a 125 Years of the Bathing Suit Fashion Show featuring historical swimwear and a roof-top beach ball drop with 1,000 colorful balls; the likeness of President Teddy Roosevelt will be present for photos and historic storytelling. In the evening, poolside music and an outdoor movie will keep the festivities going until closing time at 10 p.m.
About Glenwood Hot Springs

Glenwood Hot Springs is a 125-year-old Colorado landmark resort located along I-70 at Glenwood Springs, approximately 165 miles west of Denver and 90 miles east of Grand Junction. Famous for its enormous hot springs pools, other amenities include the Spa of the Rockies, the Glenwood Hot Springs Lodge, an athletic club, a restaurant open for breakfast and lunch, a retail store specializing in swimwear and a miniature golf course open seasonally. For more information, including press releases, a press kit, photos and a live web camera, please visit http://www.hotspringspool.com/misc/press-room or call 800-537-SWIM (7946) or 970-947-2955.
Media Contact:

Jeremy Gilley, Director of Sales and Revenue

Glenwood Hot Springs/Spa of the Rockies

970-945-3324

jgilley (at) hotspringspool (dot) com

or

Vicky Nash

Resort Trends, Inc. media communications for the travel & tourism industry

970-948-4923

pr (at) hotspringspool (dot) com