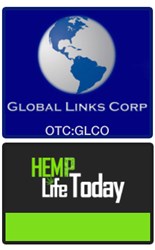 Las Vegas, Nevada (PRWEB) January 29, 2014
Global Links Corporation (OTC: GLCO) announced today that the Company has purchased Hemp Life Today, LLC and its online Hemp and Medical Marijuana products and information website, HempLifeToday.com. HempLifeToday.com focuses on the exciting and dynamic new thinking in the world today that recognizes the important health and life enriching enhancement that Hemp and Medical Marijuana products can bring. HempLifeToday.com is poised to become the leader in its industry and is the first of its kind website. Hemp Life Today has its own growing product brand and additionally allows other companies to launch products on its marketplace through a revenue sharing arrangement. HempLifeToday.com strives to become the online marketplace for all things Hemp and Medical marijuana related.
HempLifeToday.com was created to fill a huge gap in the market and to merge the need for information by the general public about Hemp and Medical Marijuana related issues with the best products at the best prices. In addition, HempLifeToday.com also offers advertising opportunities to other industry related businesses, said Tim Zorn, President of Hemp Life Today. HempLifeToday.com offers the Hemp Life Today Dry Herb Vaporizer and many of its own branded products, like Hemp oil containers, clothing, UV stash jars, Hemp candles, and more.
At HempLifeToday.com we recognize that there is a new way of thinking about the benefits of the products we offer, and we have a groundbreaking way of getting our products, services, and information out to the public, continued Zorn. We intend to become the number one source for all things Hemp and Medical Marijuana related, similar to the way that Amazon.com began as an online bookseller has become the largest online retailer.
About Global Links Corp.