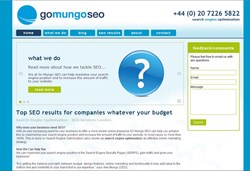 (PRWEB UK) 17 July 2013
Go Mungo SEO has secured a new contract with eco-Kinetics, a world leader in solar PV installation, based in St. Albans, UK, to help position them as the leading UK solar PV installer by building them a new website, and providing Search Engine Optimisation (SEO) services to help improve their online visibility and boost sales.
We are very excited to have been chosen by eco-Kinetics as their main online marketing supplier and help with their identity by creating their new website and provide them seo services, says Alex Mungo (CEO of Go Mungo SEO).
Eco-Kinetics, based in St. Albans, is a world leader in solar PV installation, offering bespoke, specialist solar PV panels to both residential and commercial customers. Eco-Kinetics pride themselves on delivering a high-quality professional service, winning local and national contracts through recommendation and excellent customer service.
Alongside our web provider Calm, we propose to design and build a visually-led, corporate website with a boutique and local feel. We will create a website that not only looks fantastic, but works well in mobile and tablet form as it does on desktop browsers, adds Alex.
To ensure that the SEO strategy works in line with the website both Go Mungo SEO and Calm will work closely together to co-ordinate on a regular basis during the design and build phase thus ensuring that both jobs are properly aligned for future website optimisation purposes. A websites code must be optimised so that it can be well spidered and catalogued by search engines. It is possible to think of the internet as a huge library, of which there are billions of pages. Google and other search engines travel through the pages attempting to create an index of all the pages, which ends up as search engine results. To create this index search engines rely on certain tags and key points of information within documents to tell them what they are about. They also rely on defined code layouts and structures being included in the pages so that they can understand them.
Go Mungo SEO is a leading UK based independent Search Engine Optimisation company, specialising in organic search engine optimization known as SEO working with various companies with all kinds of budgets providing SEO services in London. Their impressive client list includes companies such as Casa Forma, Raj Tent Club, Benidorm.co.uk and Personnel Appointments.
For more information please go to http://www.gomungoseo.co.uk, email info(at)gomungoseo(dot)co(dot)uk or call +44 (0) 20 7226 5822