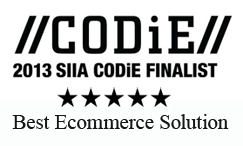 Bridgeport, CT (PRWEB) April 04, 2013
GoECart, the leading provider of multi-channel ecommerce solutions delivered via the cloud today announced that its GoECart 360 ecommerce suite was named a finalist in the 2013 SIIA Software CODiE Awards for Best Commerce Solution. The SIIA CODiE Awards are the premier award for the software and information industries, and have been recognizing product excellence for 27 years. The awards have over 75 categories and are organized by industry focus of Content, Education and Software.
This year there were 27 software categories, including twelve new and updated categories that reflect the continued growth and evolution of cloud computing, mobile, big data, and video. Winners will be announced during a special Awards luncheon on May 9 in San Francisco during the industry's most comprehensive ISV conference, All About the Cloud.
GoECart 360 is the premier, all-in-one ecommerce suite designed for multi-channel merchants to manage their entire business with a single web-based application. GoECart 360 is the industry's first truly integrated SaaS ecommerce solution. Highlights include:
> Advanced Ecommerce Platform State of the art ecommerce engine delivered via SaaS has built-in Integration with leading e-Marketplaces like Amazon