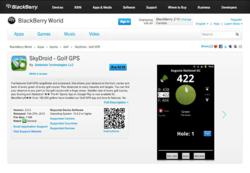 West Hartford, CT (PRWEB) February 28, 2013
The SkyDroid – Golf GPS rangefinder and golf scoring app is now available on Blackberry 10 devices like the new Z10 and Q10 phones.
With no loss of functionality, the SkyDroid – Golf GPS app Android version was launched for Blackberry 10 devices, allowing Blackberry users access to the #1 paid sports app on the Google Play Store.
Parts of the app had to be re-worked for Blackberry compatibility, like replacing the Google Maps native Android code with Googles web based Javascript API. Blackberry doesnt support Googles proprietary Maps API that comes built into most Android devices, but Googles rich Javascript Maps API offered an alternative implementation.
Our app lets golfers see overhead images of the course and we wanted to be able to bring that experience to Blackberry 10 users. Fortunately we were able to make it happen, so golfers on BB10 get all the functionality says Paul Goldstein, SkyDroid creator.
The Z10 and Q10 phones are currently available in Canada and the UK and they are expected to launch in the US in March of this year. Additionally, existing owners of the Blackberry Playbook will soon be getting the Blackberry 10 upgrade.
SkyDroid – Golf GPS launched on Blackberry World on Feb 27th, 2013.
SkyDroid is also available on standard Android devices as well as iOS devices (iPhone and iPad 3G) on their respective app stores.