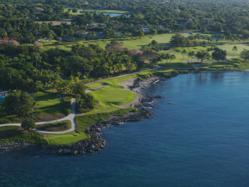 Portland, Ore. (PRWEB) January 07, 2013
The A Position.com rings in the New Year with the continuation of its popular Golf Road Warriors seriesan interactive multi-platform golf adventure by visiting beloved Caribbean resort Casa de Campo, January 8-13. Four journalists and a videographer will create and broadcast daily original content via a collection of websites and social media that will be further disseminated by sponsor partners. The content will include short travelogues, videos, and reviews of courses, restaurants, and other attractions, as well as the observations of a team of seasoned golf journalists.
This edition of Golf Road Warriors introduces the newest warriorJeff Neumanwhose credits include stories in The New York Times, The Wall Street Journal, and twice-weekly columns at RealClearSports.com. Returning warrior Anita Draycotta widely-read Toronto-based journalist brings a Canadian perspective and that of a woman to the group; long-time golf writer Hal Phillips served as editor-in-chief of Golf Course News and is the founder of Mandarin Media; and A Position executive editor Jeff Wallach who has written about his golf adventures in more than 30 countries for a wide variety of publications including GOLF Magazine and The New York Times. The writers exploits will be captured on video by Scottish writer and videographer David Whyte, creator of go-golf.tv.com.
At Casa de Campo, the warriors will enjoy the entirety of the sporting life, from polo to shooting to water sports to golf across the resorts 7,000 verdant acres. Theyll stay in newly renovated, elite lodgings and visit Altos de Chavon, modeled after a 16-th century Mediterranean Village. Golf challenges will include 63 holes designed by Pete Dye, including Teeth of the Dog, perennially ranked as the top course in the Caribbean.
Check out the warriors field reports at Golf Road Warriors.com and theAposition.com. And look for the next installment of Golf Road Warriorsa campaign to Mauiin April.
The A Position.com is a network of websites featuring the worlds best golf and travel writers. The term The A Position refers to the best place a golfer can land his tee shot. On the web, it refers to the site readers will want to land on for great golf and travel journalism.
# # #