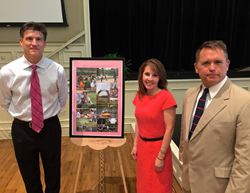 Jackson, Tennessee (PRWEB) April 27, 2015
A variety of events are planned to support Youth Towns programs to help young people trapped in substance abuse. Programming for Jericho for boys is being enhanced this year, and Eden, which will serve girls, is launching this summer.
The first event is a sellout golf tournament that traditionally raises more than $ 100,000 to serve adolescents. The Youth Town Jim Jackson Golf Classic will be held at Spring Creek Ranch in Collierville on Monday, May 4, with tee times at 8 a.m. and 1 p.m. Team sponsorships are available for $ 1,000, and hole sponsorships are available for $ 300. For more information, contact Jim Jackson at youthtown1(at)yahoo(dot)com or Mike Roby at mroby(at)youthtown(dot)net.
The Farm at Casey Jones Village and Youth Town will co-host Sermon on the Mount Saturday, June 6, and Sunday, June 7 at 5 p.m. at the Casey Jones Amphitheatre in Jackson. Sermon on the Mount uses horses to illustrate Biblical principles. The evening will include music, jumpers, chuck wagon dinner and Dr. Lew Sterretts presentation. While admission to the event will be free, donations to Eden of Youth Town will be encouraged. Corporate sponsorships are available. Email mroby(at)youthtown(dot)net for more information.
Details will be released later about the Mid-South Horse Show Associations 28th Annual Charity Horse Show, scheduled for Saturday, July 11 and Youth Towns BBQ and Music Fest planned for Saturday, Oct. 3. Additional news will be released as programs open, as well.
Youth Towns Jericho sits on 250 acres in south Madison County with a 30-acre lake, full size gymnasium and a challenge ropes course. Jericho uses an evidence-based curriculum and an adventure-based approach to present young men with an alternate way of life to drug use and drug culture. Eden is located on 17 acres in the Beech Bluff community of West Tennessee in a natural setting perfect for a young woman to have time to be with God and be with herself. Like Jerichos programming, Edens programming is gender responsive. Learn more by emailing ppratt(at)youthtown(dot)net or calling 731-988-5251.