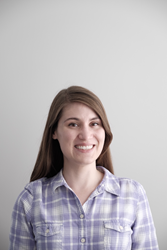 Nashville, TN (PRWEB) April 30, 2015
Good People Creative welcomes Karin Albrecht, Art Director, to the Creative Department. Karins enthusiasm and experience in design adds breadth to the talented team lead by Malynda Resh, Addy-award winning Creative Director.
We are excited to bring on a new team member to help manage our expanding roster of clients, says Cole Evans, CEO of Good People Creative. We value original design and know that our partners expect the best creative possible. Having Karin on the team adds another layer of experience so we can deliver on that expectation.
Karin graduated from Liberty University with a Bachelors degree in Graphic Design and has done work for a wide range of companies including Scotts Miracle Grow, Hasbro, Mattel, Dr. Scholls, and Glade. I love visual arts, but the thinking that goes into every project gets me really excited, says Karin. "I'm looking forward to getting to know our clients, and figuring out the best way to take them where they never thought they could go.
In her free time she enjoys gluten-free baking, brush-and-ink illustration, and studying French.
Good People Creative is the content marketing company based in Nashville, TN, special-izing in search engine marketing, website development, media buying, marketing, con-tent creation, videography, social media, and design.
For more information, please visit goodpeoplecreative.com.