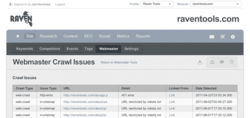 Nashville, Tennessee (PRWEB) June 06, 2011
Google's Webmaster Tools are essential for website owners who want to know more about how Google sees a site. Users can submit a sitemap to the search engine, see which keywords Google find most relevant on a site and get automatic updates about a site's errors and malware.
That's convenient. And now that convenience has come to customers of Raven Internet Marketing Tools at no extra charge.
Raven has released an update to its platform that integrates all of those functions of Google Webmaster Tools and more. Raven, a one-stop online platform for SEO and social media marketing, has incorporated all available functions of the Google Webmaster Tools API to help its customers work as efficiently as possible.
"You don't even have to leave Raven to add a site and verify it in Google Webmaster Tools," said Jon Henshaw, Raven's director of product innovation. "Plus, you're getting keyword information from the best possible source: Google. They'll tell you exactly what keywords they think are most relevant for your site."
Then customers can quickly add those Google-verified keywords to manage and monitor with other Raven SEO tools, such as the Keyword Manager.
This integration continues to build on Raven's goal to collect the best online marketing data into one convenient platform so online marketers can made informed decisions and take action as efficiently as possible.
"Raven's customers are experienced, knowledgeable online marketing agency and in-house professionals, and they consider Google Webmaster Tools essential," Henshaw said. "That makes them essential tools to add to the Raven platform."
As more features of Google Webmaster Tools get added to the API, Raven plans to add them to its platform.
The Google Webmaster Tools integration in Raven is available to all levels of Raven accountholders: Solo, Pro, Agency and Enterprise.
For more information about Raven's Google Webmaster Tools integration, including step-by-step instructions, read the Raven Tools blog.
About Raven Internet Marketing Tools

Raven Internet Marketing Tools is an online platform that helps users quickly research, manage, monitor and report on SEO, social media and other Internet marketing campaigns. Its collaborative, multi-user features and fast, professional reports make it the software choice of thousands of online marketers worldwide in agency and corporate settings. Raven Internet Marketing Tools, a privately-held Nashville-based company, was founded in 2007.
# # #