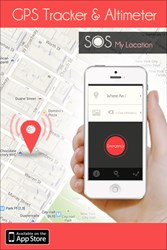 Mystic, Connecticut (PRWEB) August 30, 2013
The newly revamped GPS location tracker comes with the brand new "Where Am I" & ICE feature, allowing users to find or share their location and set their ICE(In Case of Emergency) Screensaver.
SOS My Location is one of our earlier apps we developed and it was about time for an update on the software. With safety for the user in mind, we took the extra steps to make ICE (In Case of Emergency) Screensaver & 'Where Am I' feature. As one of the superior GPS location trackers, we hope the new release will only increase the user experience, stated Sandeep Ali, Head of Digital Marketing for i2e Consulting.
SOS My Location is the only location tracker to that will send your precise GPS position to all of your emergency contacts in the shortest amount of time. The top of the line GPS tracker can also send video clips, emails and allows the user access to their social media platforms.
SOS My Location is ideal for any iPhone or iPad user to have access to in case of any type of emergency. Whether one is lost in a big city, had a car accident and unaware of your whereabouts or just about any other emergency, SOS My Location is a superior GPS tracker to ensure your emergency contacts will be able to find you.
This universal app is available worldwide in the Apple AppStore to all iPhone & iPad

users.
http://itunes.apple.com/app/sos-my-location/id482954683?mt=8&at=11l6nt&ct=vs-pr-sl