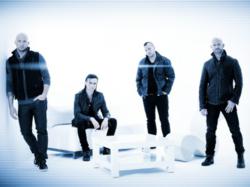 Nashville, TN, Lemoyne, PA (PRWEB) March 22, 2013
Nashville, TN and Lemoyne, PA (March 22, 2013) Michael Barnes, lead singer of rock band RED, whose recent album Release The Panic landed on the Billboard Top Ten, announced that he will participate in the CURE Champion Program by running the Rock and Roll Marathon in Nashville next month. Established by CURE International, the Champion Program allows participants to meet a fitness goal while simultaneously raising money for life-changing surgeries for children in emerging countries.
To help increase the visibility and support of the CURE Champion Program, Mr. Barnes is inviting fans to train and run the Rock and Roll Marathon with him. In addition to the bands social media presence, fans will have access to Mr. Barnes and his marathon training regiment and tips on the CURE Champion web page. CURE Champion team members also have access to three celebrity fitness coaches as well as a fund-raising specialist on the Champion web site.

After visiting the CURE hospital in Ethiopia, I saw firsthand how the surgeries restored hope and a life of normalcy to these young children and their families, states Michael Barnes. As a child, I always dreamed of being in a rock band, having fans and entertaining people. I made a promise to myself that if I ever got there, Id try to help others achieve their own goals. These children need our help and this program delivers.
To get involved with Michael, please visit: http://cure.org/red

To get involved, visit http://cure.org/champion.
ABOUT CURE CHAMPION:
CUREs Champion program connects your fitness and sports goals with the needs of a physically disabled child across the world. These children, unable to walk, run, and play, suffer from conditions that are correctable. You, along with other champions, will partner with friends and family to build support and raise money towards your financial goal to heal them. Because we want to see you meet your goals, CURE has partnered with a team of awesome trainers and coaches who are ready to help you achieve your fitness and fundraising objectives. Groups or individuals are given a customizable webpage to promote and manage their program. When the fundraising goal has been achieved, a team member and coach will be randomly selected for a goodwill trip to a CURE Hospital to meet with the patients and families at their homes
ABOUT CURE: