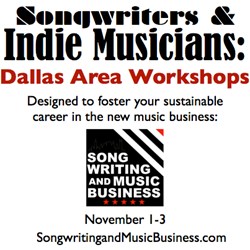 Dallas, TX (PRWEB) October 30, 2013
Dallas is a hotbed of talent in the songwriting and independent music arena. The long standing rivalry between Nashville and the Texas music scene has met its match with the combined forces of the local songwriting community and traveling educator, songwriting community leader, Amanda Williams.
Texas has always been a special place for music, says Williams. My goal is to unite the songwriting community by nurturing talent wherever it is, and by helping make connections between people living close to each other who are working toward the same goals.
This weekend, the Songwriting and Music Business community is presenting three unique workshops designed to foster sustainable careers in the new music business.
Friday, November 1st from 6:30-8:30PM is the Business of Songwriting workshop, designed to help songwriters understand the foundation of the music publishing business how it was built originally, and how it can be modified to suit each songwriters individual needs and goals.
We basically cram a semester of Music Publishing 101 into a two hour workshop, laughs Williams.
Saturday, November 2nd from 10AM to 1 PM is the Brand You workshop that teaches songwriters and creative artists of all types how to attract organic search traffic to their businesses and their music without relying on paid advertising or quick fix SEO schemes.
Sunday, November 3rd from 2-6PM is the Write Brain Song Crafting Workshop that teaches songwriters how to write better songs in less time without allowing the inner critic to interrupt the flow of creativity in the middle of the process.
For more information or to register for a workshop, visit http://songwritingandmusicbusiness.com/articles/Dallas_area_songwriter_events_November_2013/.